Daily Bible Study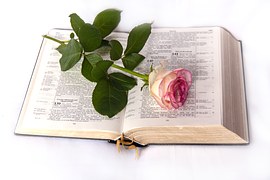 Green Bay, Wisconsin
May 15, 2016 1:36pm CST
Day 57 Psalm 57 Psalm 57:1 (To the chief Musician, Altaschith, Michtam of David, when he fled from Saul in the cave.) Be merciful unto me, O God, be merciful unto me: for my soul trusts in thee: yea, in the shadow of thy wings will I make my refuge, until these calamities be over past. 2 I will cry unto God Most High; unto God that performs all things for me. 3 He shall send from heaven, and save me from the reproach of him that would swallow me up. Selah. God shall send forth his mercy and his truth. 4 My soul is among lions: and I lie even among them that are set on fire, even the sons of men, whose teeth are spears and arrows, and their tongue a sharp sword. 5 Be thou exalted, O God, above the heavens; let thy glory be above all the earth. 6 They have prepared a net for my steps; my soul is bowed down: they have dug a pit before me, into the midst whereof they are fallen themselves. Selah. 7 My heart is fixed, O God, my heart is fixed: I will sing and give praise. 8 Awake up, my glory; awake, psaltery and harp: I myself will awake early. 9 I will praise thee, O Lord, among the people: I will sing unto thee among the nations. 10 For thy mercy is great unto the heavens, and thy truth unto the clouds. 11 Be thou exalted, O God, above the heavens: let thy glory be above all the earth. Do you have a place to go when life seems overwhelming? Does it seem like you face one crisis after another? David felt that way for a good part of his life. He fled from Saul because Saul knew he would be next on the throne and was deeply jealous of David. He fled from his son, Absalom, when he rose up against him and tried to wrest the kingdom from him. When David wasn't fleeing, he was fighting many battles with the Philistines. When David said God was his refuge and he took that refuge under the shadow of God's wings, he knew it was the only place he would ever be safe. When it comes to safety, God is the only place we can turn to for help in every kind of trouble we face. It is there we find peace and can rest knowing that no matter what Satan throws at us in this life, God will take care of us. Have you found peace and safety under the shadow of God's wings? Are you able to sing praises to God in the middle of your crisis, and know everything will be all right because God is taking care of the battle? David said God prepares the safety net for us so that the pit our enemies dig for us, they will fall into. We are always safe when we are in God's hands. Let's pray: Father, thank you for hiding me under the shadow of your wings and keeping me safe from everything Satan hurls at me. Help me sing your praises in the midst of calamity and know you are always there to protect me. In Jesus' name, I pray, amen. Copyright © 15 May 2016 by Valerie Jean Routhieaux Image courtesy of Pixabay
3 responses

• Harrells, North Carolina
15 May 16
Thank you for sharing this. This is a good idea i started reading the bible a few weeks ago and i started from the start. I think this would be a good idea so if i do not under stand something then i can post about what i have read and get insight from others.

• Harrells, North Carolina
16 May 16
@just4him
Yes it is because in the very begining there is a lot that i do not understand due to the wording is all. I would love to be able to get a bible that explains things to me a little better.

• Green Bay, Wisconsin
17 May 16
@Jdaw1985
I understand the Message Bible is very good and puts it in everyday language. I'm not certain though if it's a paraphrase or a translation.


• Ciudad De Mexico, Mexico
15 May 16
There is no other that can make us feel at safe, but God. It´s comforting to read your posts and the Psalms

• Green Bay, Wisconsin
16 May 16

• Wausau, Wisconsin
15 May 16
Amen. I just had a friend die in a car accident last night.

• Green Bay, Wisconsin
16 May 16
I'm so sorry. My condolences to your friend's family.