Budgies are Fighting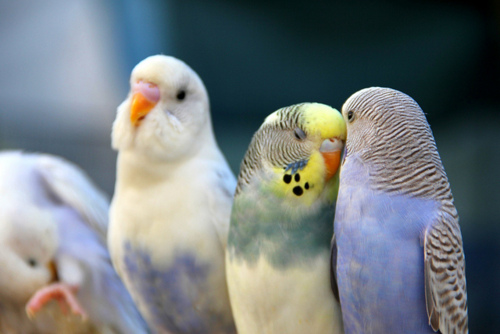 May 22, 2016 3:02am CST
My budgies are fighting. The white bird has his eye got attacked by another bird. Usually these birds are the most peaceful lot. However some of the time they just go in attacking mode. I don't know how to control their aggressive behavior towards each other. And all of them are like that. So it's hard to isolate one from another. And also i have limited cages (just 2). Have you ever seen such behavior in pet birds?
10 responses





• Cagayan De Oro, Philippines
22 May 16
Nice birds, better set them free hehehe. No, I do not have pet birds only cat, chicken, pig ,dog.

• Cagayan De Oro, Philippines
22 May 16
@skysnap
Oh, do not release them then.Yes I have 1 pet chicken Margie and she is going to be a hen few days from now.My pet pig is Ben, so fat.he always roams around in our sala hehehe. We will surely cry if he will be sold.Ben likes to be cuddled so with Margie.They watch TV with me.


• Cagayan De Oro, Philippines
22 May 16




• Philippines
23 May 16
no pet birds, but our dogs are in fighting mode for the other female dog we have---Trixie. Chibi the smallest male, shows his teeth to the Japanese Spitz Xander and both rumble.


•
25 May 16
@ridingbet
hahah. i didn't knew that during mating season things go serious as much as hurting each other.

• Philippines
26 May 16
@skysnap
it is therefore "carino brutal" isn't it?

• El Segundo, California
22 May 16
not yet. we don't have pet birds.


• Philippines
25 May 16
I never have birds as pets, so I have no idea why they're acting like that. Are they territorial? How many birds do you keep in a cage? I hope your bird isn't injured.

• Philippines
25 May 16
@skysnap
Poor guy... I hope he heals up soon. Maybe it's mating season? Maybe they were fighting over a girl or something lol.

•
25 May 16
@cheerfulnuts
yes it is because of girl and mating season. and it is the girl who is attacking lol.

• Philippines
27 May 16
I have seen such behavior among African lovebirds, specially when you introduced a new bird to a cage.They would fight the newbie, so it is not practical to add him to that cage.

• Philippines
24 May 16
love to have pets like that. too bad it is not recommended for me and kids to have those.