Good news for people on public assitance who live in NY state who win some lotto winning you can keep your public assitance here why?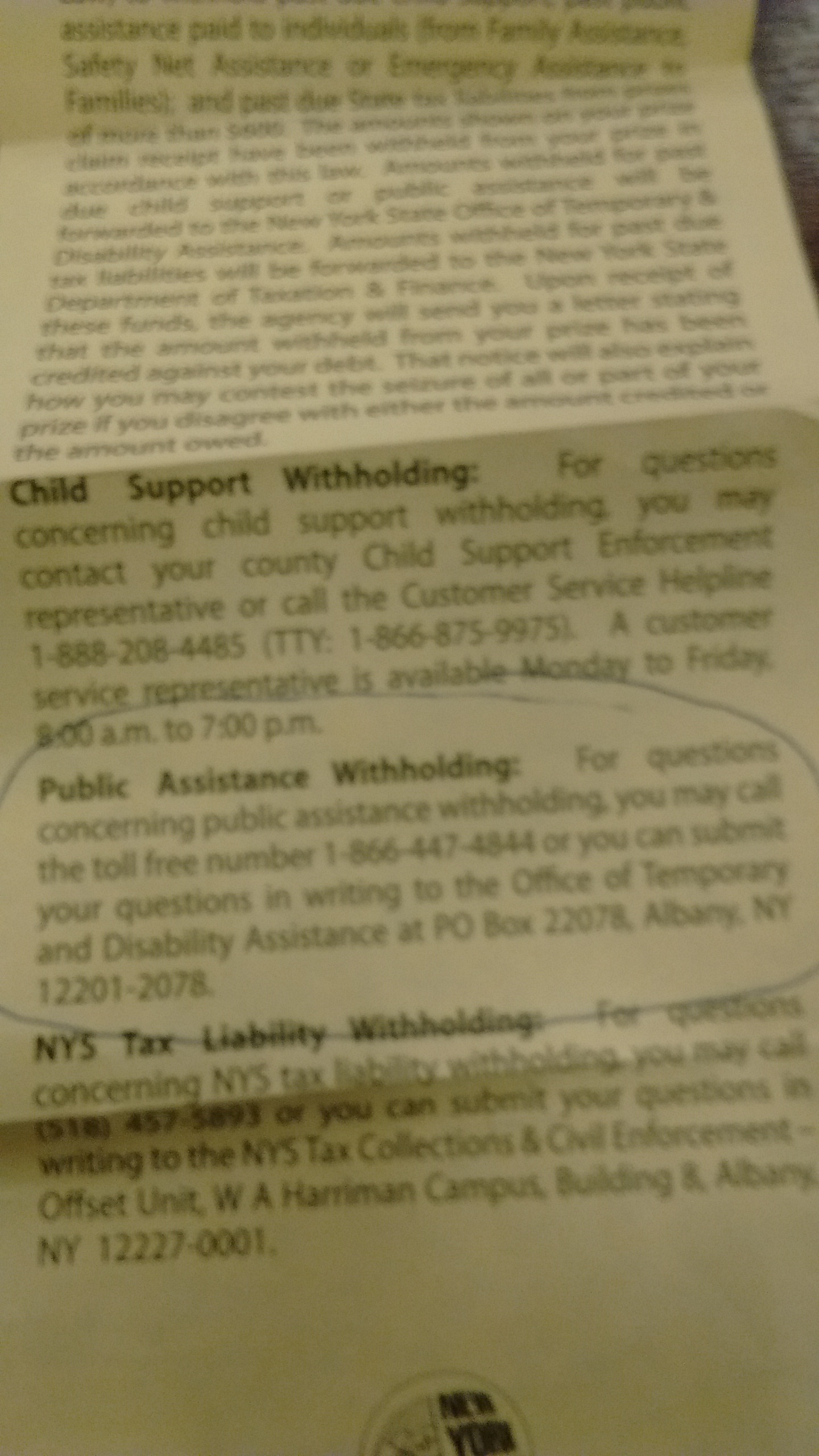 Kingston, New York
May 22, 2016 7:38am CST
Here why You can keep your public assistance in New York state if you win some lotto winnings. If the person who wins some lotto winnings have been on public assistance for 10 year or less . This what New York state does they take most of your winning this is not a joke. I know who person who won around $2000.New York state took over 50% of this person winnings. This person all ways got their New York state tax return. The recording say the state can take it if no ever pay their assistance back but in all the information New York state give out to low income people none of them say you have to pay the money back they do send any bills . even if you are just on the snap program(food stamps) This person was going to try to start a itiaian ice food cart business. to get off asstaince guess now this person can not do it. If this person had to pay the money back dont you think they would keep this person New York state tax return . Yes this person work while on assistance .Food stamps and some help for rent. This New York is taking lotto winning away from low income people the one who work and would like to get off assistance . If we could find for one year to get all low income workers to stop buying lottery tickets the state would lose so much money they would have to make changes. Like I said before NewYork state never bill this person or said that they are required to pay any assistance back . Since they all ways got their New York state tax return back every year . So If you live in New York state and is low income and getting any kind Public Assistance this includes the affroble care act, food stamps, rent help . You are wasting your money playing the New York lottery Stop playing it , New York will take your winnings. If you live on a state border go to the other state to play lottery if you want but In New York you are throwing your money away. That it for now.
1 response

• United States
22 May 16
If you are on State Assistance what are you doing buying lotto tickets for anyway. If you need assistance you should be spending your money on other things not on Lotto . This is not very clear on your heading you say people can keep the money yet in the gist of the writing you say no so which way is it?

• Kingston, New York
22 May 16
The lottery ticket cost $1.00 us if you just play Lotto.if some one win a million dollar lotto then they Can be their own person again.but in n.y. state 10 year or less they take most of the winning back Plus taxes.like my post said the person won $2.000 Was going to use the money to get a little food business started. And to work their way off assistant.now this person who won work all the time while they were getting help every thing was reported.

• United States
22 May 16
@eagletrek2
Oh okay now I understand as it didn't seem very clear to me.