Daily Bible Study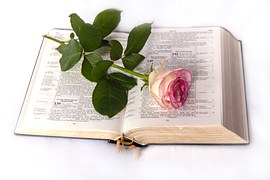 Green Bay, Wisconsin
May 24, 2016 9:31am CST
Day 66 Psalm 66 Psalm 66:1 < Make a joyful noise unto God, all ye lands: 2 Sing forth the honor of his name: make his praise glorious. 3 Say unto God, How terrible art thou in thy works! Through the greatness of thy power shall thine enemies submit themselves unto thee. 4 All the earth shall worship thee, and shall sing unto thee; they shall sing to thy name. Selah. 5 Come and see the works of God: he is terrible in his doing toward the children of men. 6 He turned the sea into dry land: they went through the flood on foot: there did we rejoice in him. 7 He rules by his power forever; his eyes behold the nations: let not the rebellious exalt themselves. Selah. 8 O bless our God, ye people, and make the voice of his praise to be heard: 9 Which holds our soul in life, and suffers not our feet to be moved. 10 For thou, O God, hast proved us: thou hast tried us, as silver is tried. 11 Thou brought us into the net; thou laid affliction upon our loins. 12 Thou hast caused men to ride over our heads; we went through fire and through water: but thou brought us out into a wealthy place. 13 I will go into thy house with burnt offerings: I will pay thee my vows, 14 Which my lips have uttered, and my mouth hath spoken, when I was in trouble. 15 I will offer unto thee burnt sacrifices of fatlings, with the incense of rams; I will offer bullocks with goats. Selah. 16 Come and hear, all ye that fear God, and I will declare what he hath done for my soul. 17 I cried unto him with my mouth, and he was extolled with my tongue. 18 If I regard iniquity in my heart, the Lord will not hear me: 19 But verily God hath heard me; he hath attended to the voice of my prayer. 20 Blessed be God, which hath not turned away my prayer, nor his mercy from me. Has someone asked you what God has done or what he has done for you specifically? What was your answer? The psalmist told about the wondrous works God did in bringing Israel out of Egypt and through the Red Sea. He told how God proved them in the wilderness, and then he said if people were ready to listen, he would tell them what God did for him. It doesn't take much more than looking at the world around us, seeing God's marvelous creation, to know what God did. You can clearly see the change of seasons, hear birds singing, and how everything fits together with such harmony in the animal kingdom. Everything has a purpose. Then we can look at us, the people God created with such detail and precision that we too work in perfect harmony with every other part of our body. Mankind is so finely detailed that scientists are still working to invent a living organism as perfect as the man God created, and hasn't been able to do it yet. And God saw everything he had made and behold it was very good, and evening and morning were the sixth day. Genesis 1:31 Then the psalmist said he would declare what God did for him. What is your testimony of what God has done for you? As Christians, we all have testimonies of how God brought us to salvation, and how God took care of us in various situations. Have you given your testimony? Do people know what God did for you? Remember, if you have not told anyone you are a Christian, or given a testimony about what God did for you, Satan is very happy with you. He doesn't want anyone to know what God does for us. When you give your testimony, even telling a minor detail of what God did for you to encourage someone else, you are telling of God's wondrous power and love for you. Someone needs to hear your testimony. Declare what God did for you today, and watch Satan's kingdom crumble and fall because God takes care of his people, and he always will. Let's pray: Father, help me to give a testimony of your love and faithfulness in my life. Help me encourage others with your faithfulness so they too can know you, the only true God. In Jesus' name, I pray, amen. Copyright © 24 May 2016 by Valerie Jean Routhieaux Image courtesy of Pixabay
4 responses

• South Africa
24 May 16
Last Sunday in church we were presented with many of my old Sunday school songs and those that we sang at our Camps - my hubby who is of the Dutch Church and after we got married joined me as a Methodist, asked: You know all these songs? I said to him, These are the corner stones of my faith - Praising songs are forever in my mind. "Give me oil in my Lamp, keep me burning"; "Go tell it on the Mountain" - which I sing when I do the dishes. So most of the Psalms start with the words "Make a joyful noise unto the Lord" and so we do!

• Green Bay, Wisconsin
25 May 16
I love those old songs. It's been a while since I sung the two mentioned. I'm not Methodist, but I agree, a lot of the songs sung in church are found among the Psalms.

• Ireland
25 May 16
My God is my rock, in whom I take refuge, my shield and the horn of my salvation

• India
24 May 16
In a way victory of good over evil?

• Green Bay, Wisconsin
25 May 16
Yes, Good always triumph's over evil.

• United States
24 May 16
Good word. I always learn from your daily bible studies. Thanks for sharing them with us. Have a blessed day

• Green Bay, Wisconsin
25 May 16
I'm so glad I can bring a fresh word to you from God.