What is 'ONE EYED COCONUT'?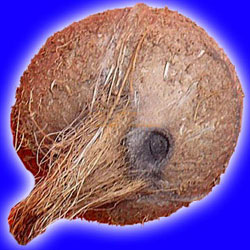 Hyderabad, India
May 25, 2016 4:01am CST
This is a highly sacred item in Hindu Tantra. Generally, all coconuts will have three black marks(called eyes) on the top of it. But, it is only one in Trillion which will have only one black spot (eye). It is regarded as Devi who blesses his devotee with all whatever he wants. It will be charged with Kanakadhara Mahalakshmi Mantra and kept in the house, business place, office, workplace, and at various places which are neat and clean. The benefits derived from this COCONUT are the development of business, wealth, solving family and other problems, success in Sahana, meditation, and finance. This Eka Akshi (one-eyed) coconut is found at a sea-shore. It is offered to the goddess with coin applying sandal on it on important days. It will be very small in size actually It should be tied in red piece of cloth and kept in a cash box for development of business.
2 responses

• Jakarta, Indonesia
25 May 16
that is, at the top there are three eyes of the coconut. But there is only one point of view it? means if there is more oil in the world that has a single point? Thank you for the information ...