What Is For Dinner? Help!!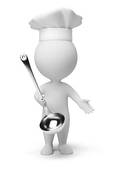 United States
May 25, 2016 12:47pm CST
I have constantly been cooing dinner for my husband every night. I do it because he works hard and he told me the microwave at the shop does not work and the refrigerator there is so so nasty. I told him to tell his boss to get a new the microwave or we can get one there not that expensive! Ours blew up so we don't have one at home now. I told him tell someone there to stop being lazy and clean the fridge! L.O.L. But anyway I have no clue what to make for dinner tonight. It is too hot for soup, I made Enchiladas rice and beans last night and the night before Chicken Fried steak and sides, I have some steak meat I can make tacos out of but I don't really want that, I can make several things out of the meat I just don't know what to do with it or just throw the Pizza I have in the freezer in the oven but he likes salad with his Pizza and I forgot lettuce at the store! I have tons of Chicken I got from the food pantry but he hates Chicken! My Mother is coming soon so she said she would take its o it wont go to waste. Any Ideals of what I can cook tonight? What are you guys having?
2 responses

• Boise, Idaho
25 May 16
I'd fix a vegetable and cook the steak. Don't know if we are having anything so I don't know what to tell ya. I'm sure you will figure out something. Nice that you have options.

• United States
25 May 16
I think I am going to make tacos l.o.l. I looked at the steak and it was a very small piece left l.o.l. Forgot my firnd came over over the weekend and we cooked most of it l.o.l. Thanks though If I had enough I like your idea better O well guess it's tacos


• Boise, Idaho
25 May 16

• Jacksonville, Florida
25 May 16
Wish I could help but we are having chicken salad sandwiches, quick and easy before Bible study tonight. =)