My Cat is Doing Better

Beaver Dam, Wisconsin
May 27, 2016 5:21am CST
As I kind of suspected last night, I think he might have been acting like he was because of the heat. As soon as it started cooling down a bit, he was acting more like himself. He was OK being petted, stopped hiding in dark places and finally ate his food. Of course, he did screw up my morning schedule this morning. He came in to wake me up like he normally does and, not paying attention to the clock, I got up and dressed before I realized it wasn't even 5 yet. Oh well, it's too much work to try to fall back to sleep so I'm up now.
4 responses

• Philippines
27 May 16
You have a cat as an alarm clock! How cute.

• Beaver Dam, Wisconsin
27 May 16
Sometimes. Other mornings I'm the one waking him up.

• Philippines
27 May 16
Dogs and cats usually they wake up very early like our dog Whitey.His gesture is kind of sweet and thoughtful.

• United States
3 Jun 16
I am lucky enough to say that after 15 years of being 'owned' by my feline, he has succumbed to the schedule we set about food time and down time, he is so obliging ! Nice to read you and meet you Steve

• Daytona Beach, Florida
28 May 16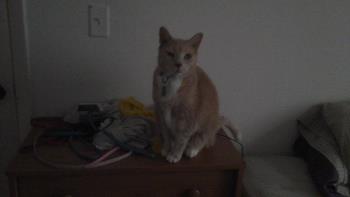 Cats in general can't seem to tell time. My cat, precious , always wakes my husband up anywhere between four and six every morning.