Daily Bible Study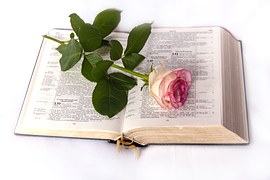 Green Bay, Wisconsin
May 31, 2016 8:55am CST
Day 73 Psalm 73 Psalm 73:1 < Truly God is good to Israel, even to such as are of a clean heart. 2 But as for me, my feet were almost gone; my steps had well nigh slipped. 3 For I was envious at the foolish, when I saw the prosperity of the wicked. 4 For there are no bands in their death: but their strength is firm. 5 They are not in trouble as other men; neither are they plagued like other men. 6 Therefore pride compasses them about as a chain; violence covers them as a garment. 7 Their eyes stand out with fatness: they have more than heart could wish. 8 They are corrupt, and speak wickedly concerning oppression: they speak loftily. 9 They set their mouth against the heavens, and their tongue walks through the earth. 10 Therefore his people return hither: and waters of a full cup are wrung out to them. 11 And they say, How doth God know? And is there knowledge in the Most High? 12 Behold, these are the ungodly, who prosper in the world; they increase in riches. 13 Verily I have cleansed my heart in vain, and washed my hands in innocence. 14 For all the daylong have I been plagued, and chastened every morning. 15 If I say, I will speak thus; behold, I should offend against the generation of thy children. 16 When I thought to know this, it was too painful for me; 17 Until I went into the sanctuary of God; then understood I their end. 18 Surely thou did set them in slippery places: thou casted them down into destruction. 19 How are they brought into desolation, as in a moment! They are utterly consumed with terrors. 20 As a dream when one awakes; so, O Lord, when thou awake, thou shalt despise their image. 21 Thus my heart was grieved, and I was pricked in my reins. 22 So foolish was I, and ignorant: I was as a beast before thee. 23 Nevertheless I am continually with thee: thou hast held me by my right hand. 24 Thou shalt guide me with thy counsel, and afterward receive me to glory. 25 Whom have I in heaven but thee? And there is none upon earth that I desire beside thee. 26 My flesh and my heart fails: but God is the strength of my heart, and my portion forever. 27 For, lo, they that are far from thee shall perish: thou hast destroyed all them that go a whoring from thee. 28 But it is good for me to draw near to God: I have put my trust in the Lord GOD, that I may declare all thy works. A common thought and comment is that some people have it good. Generally they are the most wealthy and prosperous people in the community or country. Nothing goes wrong for them. Yet we have one thing they don't, God. Asaph saw the mighty men of the land, their wealth and their prosperity and wondered, as we all do, why they had it all. It was only when he went into the temple, and heard the Word of God that he understood that wealth will not buy their way to heaven. Only faith and trust in God will do that. Jesus said it was easier for a camel to go through the eye of the needle, than for a rich man to enter heaven. Mark 10:25 It is easier for a camel to go through the eye of a needle, than for a rich man to enter into the kingdom of God. (KJV) Jerusalem had many gates. One of them was called the needle gate. It was the smallest gate into the city and the only way in was to take everything off the camel so that nothing hindered his progress into the city. A wealthy person will not divest himself of his wealth, but uses it to his advantage to get what he wanted. When we come to Jesus, we must divest ourselves of all our sin and pride. We must lay our souls naked before him, accepting him as our Savior and Lord. Only by God's grace through faith are we able to enter heaven. There is no other way. Ephesians 2:8 For by grace are ye saved through faith; and that not of yourselves: it is the gift of God: 9 Not of works, lest any man should boast. (KJV) Asaph understood that when he spent time in God's Word and went with the rest of God's people into the temple to worship him. Wealth will not save the wealthy and prosperous, only faith can do that. Have you divested yourself of everything that separates you from eternal life? Have you accepted Jesus as Savior and Lord? It's not too late. Let's pray: Father, help me to divest myself of all worldly pride and the sin that separates me from you and eternal life. Help me live my life not thinking about how good the wealthy and prosperous have it but knowing that when I have you in my life, I have everything I need. In Jesus' name, I pray, amen. Copyright © 31 May 2016 by Valerie Jean Routhieaux Image courtesy of Pixabay
3 responses

• Canada
1 Jun 16
The concept of Jesus as Lord is something moderns have difficulty with, and yet, it is the basic, primary, and earliest historical confession of Jesus-it encompasses His deity and our response to it-thank you for bringing this to mind and may you be blessed in Him. Do not tire of writing these posts:).

• Green Bay, Wisconsin
1 Jun 16
Thank you for your input. It is always valuable. I will never tire of this, it is my daily food.

• Ireland
2 Jun 16
this psalm reminds me a lot of ecclesiastes... oddly I just wrote a post about how money cannot compensate for the lack of grace, manners, and class.. You just pointed out something more, the material wealth may keep us safe for a fleeting period of time.. its through our faith in the lord we shall be safe for ever

• Green Bay, Wisconsin
2 Jun 16
Yes it is. Money can buy a lot of things, but it will never ensure our salvation.

• Cuyahoga Falls, Ohio
31 May 16
Valerie, thanks for sharing this. Lovely!

• Green Bay, Wisconsin
31 May 16