Do you own a pet/pets?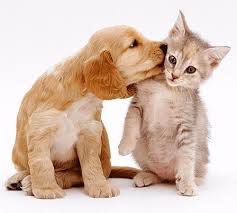 Serbia
June 2, 2016 12:46pm CST
Many people in the world are fans of pets, some just can't live without them. I think that animals generally can be even better friends than humans. Sometimes I feel that dogs can understand your mood or feeling in the moments. Right now, I don't have any pets and I am thinking about having one again. Do you have your own pet and what is it?
10 responses




• Serbia
2 Jun 16
Very nice, Man's best friend. I had two dogs before, I will get another pet soon I guess.

• United States
2 Jun 16
No pets, but pretty much everyone in my neighborhood has a dog. I'm not interested in pets.

• Serbia
2 Jun 16
Ok, I know that somebody just don't ever think about having a pet.

• United States
2 Jun 16
@Amel94
They are an extra expense, at least for me.


• Philippines
3 Jun 16
Yeah I have a 2 dogs, and they've been with me I think for 5-6 years already and I really love my dogs specially when they want me to scratch their heads!

•
2 Jun 16
We have 3 pitbulls at my parents' place.

• Serbia
3 Jun 16
They are certainly safe with 3 pitbulls there. :)

• United States
2 Jun 16
A feline is my baby and at 15 years old you would laugh as he really does own me and not the other way around . . . a pure joy and comfort when my chips can be done, at any given moment when he wants to cuddle, he has me

• Banks, Oregon
4 Jun 16
I agree they are the best friends a person could possibly have and, yes I have two dogs and, a cat.

• Australia
3 Jun 16
I had a lot back in the Philippines. I had 5 dogs and 3 cats. But here in Australia I had none. It's too expensive to keep one.