Common Sense

United States
3 responses

• China
25 Nov 06
I do not think we are born with it. we learn it. for instance, sth is common sense in one certain area, but it is not common sense in some other places.

• United States
25 Nov 06
No, I do not think that we are born with common sense. I think everything is learned. It depends on the person if they learn some lessons easily...maybe that is where the term common sense comes from. The term essentially meaning that something everybody should know....but the person would only know if learned. OK, here is an example for you. Fire can be very beautiful...touch the pretty dancing light or do you know it will burn you if you stick your hand in it? Common sense tells you that to keep a safe distancce because you will get hurt. But does a baby know this? Native Americans used to let the child reach out to touch the flame. Then, the child knew enough not to do it again. In turn, they did not have to worry about a child going too close to the flames, because the child already learned it would burn. This is the common sense. Thus, no, I do not think we are born with common sense...it is learned.

• Malaysia
25 Nov 06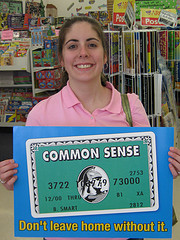 I think some were born to have very good on that kind of senses while the other might take times to learn and some might just can't have it at all.