Dream Journal: Day Seven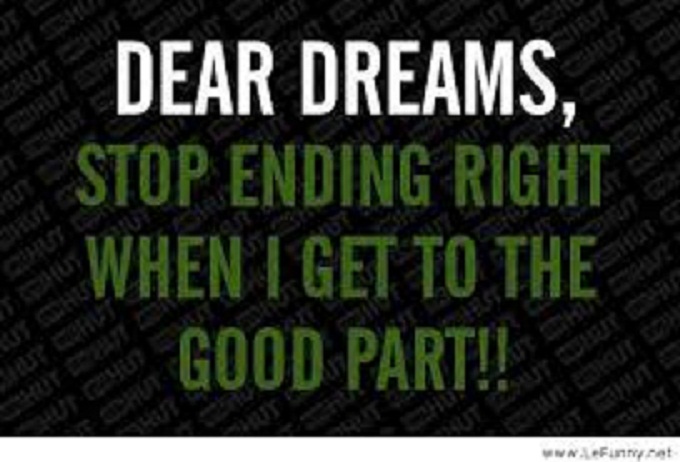 United States
June 6, 2016 1:52pm CST
Wow. I bet you all missed hearing about my dreams. Or lack of dreams, these past few days. I was gone for the weekend and couldn't access the internet. Best three days of my
life!
But let's not digress! How about we just gloss over and forget those missing days. We can just pretend I wrote some amazing stuff and you all "ooh'd" and "ahh'd" and voted me the best mylotter of the week. Ah,
dreams!!
Last night I had a double-feature in the dream world. I bet you're all just itching to hear what happened in the cinema of my mind. So here goes!
Santa Claus's term of service was over. He was reverting to a younger age and as he de-aged, his hair was turning from white, to orange. As he became younger,
I
started aging! My hair was becoming cotton-white and I had a sudden fetish for the color red...
This dream was disturbing on
so
many levels. For one, I hate it when I dream that I am a man. Boys are icky.

For two, we're those oddball Christians that don't celebrate Christmas. Ask me why and you'll regret it.

Now for our second feature!!
I'm standing on a large outcropping of rocks, near the ocean. A bunch of women are milling around with me. They all have lovely, black skin and dreadlocks. I watch a woman climb down a portion of the rock to a natural pool made from the salt-water. She slips in and swims and when she comes out, she has a toddler in her arms.
Apparently a woman can dip into this pool and "find" children to take home. However, the woman gives the little boy to me.
I proceed to track down the makings of a pb and j sandwich for him and as I put the meal together, the boy tosses half of a chocolate muffin to me. I decide to put whipped cream on the muffin and as I do, I find two long strands of black hair in the topping. I pull it out and the hairs feel like thin pieces of metal. The hairs stretch several feet long. I toss them on the ground and...
Wake up. Don't y'all feel better now that I've caught y'all up? I just
knew
you guys couldn't go another day without hearing about my dreams!

4 responses

• Redlands, California
6 Jun 16
Boys are not icky, lol. You have some out there dreams and good for you for remembering them so well. I wish I could remember mine, but 99 percent of the time cannot.

• United States
6 Jun 16
Are you a boy?

I have three boys and a hubby. Boys are
often
icky. I know that from experience!! But then, I'm told girls stink. So I guess we're even. Actually, my uncle used to tell me this joke: uncle: "Why do girls wear make up and perfume?" me: "Why?" uncle: "Because they're ugly and they stink!" Haha, uncle. You are
so
hilarious. No, really. I loved that guy.

• Redlands, California
6 Jun 16
@Genipher
You sure have quite the personality don't you. Sounds like your hilarious uncle rubbed off on you,

• United States
6 Jun 16
@crossbones27
Maybe. Though I blame my husband more for the rubbing off... Wait a minute. I don't think I can say that here. Family site and all. Sorry.



• Harrells, North Carolina
9 Jun 16
Oh wow I would have to say that on is a little crazy.

• Harrells, North Carolina
9 Jun 16
@Genipher
Maybe it could mean that. I am guessing that you can no longer have children.



• United States
6 Jun 16
@Bellatricks
Definitely a good idea. You never know when that idea will turn into a best seller! Have you written a book before...or dream of writing a novel?

• United States
10 Jun 16
You really do have crazy dreams. I usually have crazy dreams too.