The Old and the New..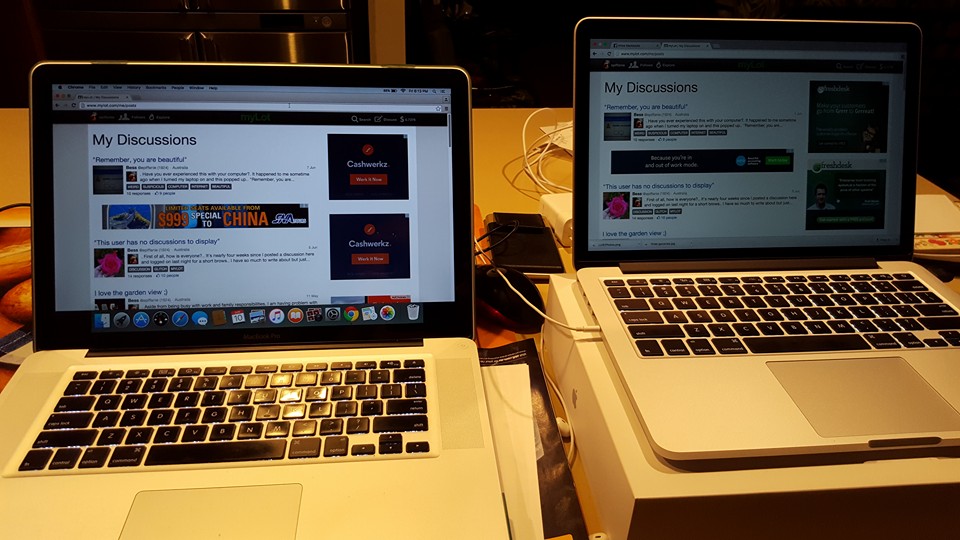 Australia
June 10, 2016 8:02am CST
. My husband surprised me today with this new 13' MacBook Pro ..At last I don't have to deal with the old's freezing on me every half an hour or so.. This is brand new but it's 2015 model. He said that he only paid $1800 for it instead of paying $3000 because it was on sale. I wanted to buy the latest that's why I am saving up some more but he said it's more practical to get this one.. I had that old one for six years. It started playing up about 4 months ago. My husband will try to clean it all up and start it all over again see if it still works .. Anyway, this is my first post using this new one.. I love the size of it. It's easy to take when traveling.. I hope this last me for at least five years or even more.. How many years does your computer or laptop lasts you?.. Good day everyone!

Bess .
10 responses


• Australia
19 Jun 16
Thank you Joy ;) .. yes indeed, no more annoying freezing moments .. ;)

• Australia
20 Jun 16
@MGjhaud
I found that laptops and mobile phones are almost half price over there in the Philippines than here in Au .. Next time if I need new ones, I will buy them there ..



• Australia
12 Jun 16
Indeed .. I just hope this one last me at least 5 years..

• Philippines
14 Jun 16
So they are of the same brand and model ? The new one is a bit smaller though . I like a smaller laptop too , the next to netbook size . Your husband is a practical person and sweet too for buying you that brand new but 2015 model .


• Bunbury, Australia
11 Jun 16
Great that you have a new computer. Hope you have lots of great times with it.

• United States
10 Jun 16
When my husband was alive, he used to buy new computers for us every few years and it was wonderful. Now that I'm alone, I don't know what I'll do. It's going to be a matter of saving up money and having it on hand for when I need a new one.

• United States
10 Jun 16
That is a wonderful surprise! I think I had my last laptop for 6 years. Have a year-old one now.