Whiskey or Vodka?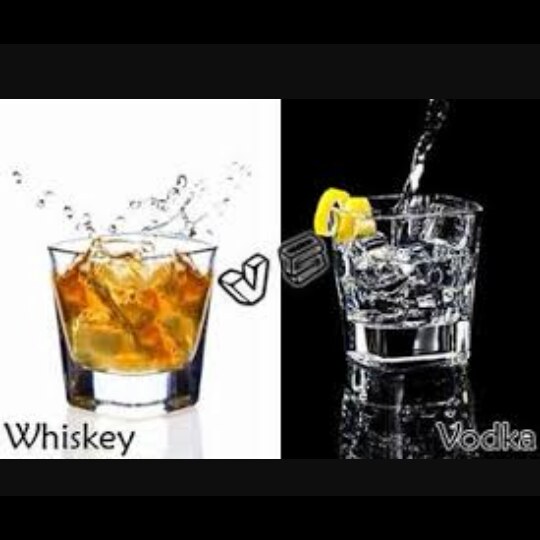 June 14, 2016 4:25am CST
Ignoring the fact that whenever we talk about Vodka, the gender that comes in our mind is female, I would love to know what you prefer? Whiskey (the usual ones, not too strong, for example Blender's Pride) takes much more time to affect the brain and give you that soothing effect where you start losing control of your body. Vodka, like Smirnoff, on the other hand takes a few shots and you are gone

(for beginners

) So what's the drink of your choice?

7 responses

•
14 Jun 16
I prefer whiskey over vodka, but at same time vodka gives more varities to try on.

•
14 Jun 16
Do you mind telling why you prefer whiskey?


•
14 Jun 16

•
14 Jun 16
@Umesh_K
sounds like you love whiskey!



• United States
14 Jun 16
I prefer vodka in mixed drinks, but doing shots? my favorite is SoCo and Lime. Southern Comfort is a whiskey, is it not? I keep forgetting lol. Vodka is great in mixed drinks, because it's own flavor is mild enough that it doesn't overwhelm the other flavors.

•
14 Jun 16
Thanks a lot for your opinion.

You do seem to know a lot about vodka.


• United States
14 Jun 16
@nightSky19
probably not as much as i should lol but it was my go-to liquor for a long time. Now I don't drink much so it doesn't really matter lol

• United States
15 Jun 16
I used to like both. But I will choose gentlmen's jack.. and Irish whiskey as the best!

• Budennovsk, Russian Federation
14 Jun 16
I would prefer whiskey. Because i am fed up with vodka

joking. But i would definitely choose whiskey.


•
14 Jun 16
Vodka is considered drink for females since it is very light than whiskey. Also Vodka effects very slowly.For a peg,it takes 10 to 15 minutes to start its work.But whiskey is hard drink and it starts its effect immediately.

•
14 Jun 16
It was completely the opposite in my case.

All the things started to blur after a quarter vodka whereas whiskey took some time to affect.

I guess, it wasn't much strong then!

• Budennovsk, Russian Federation
14 Jun 16
haha i have never heard about vodka being female drink. Don't tell that if you come to Russia. Half of women prefer vodka and the majority of men prefer it too.

•
15 Jun 16


•
14 Jun 16
Didn't know that!

sorry! It's just that if you go to a liquor shop and ask for vodka, he'll be like "bhaiya ye kya ldkiyon wali chz le re ho". Happened with a friend of mine. That's why I said that.

• India
14 Jun 16
@nightSky19
yaa...the liquor shop guys dont have so much of knowledge, Vodka mein utna hi high hotahai jitna aur drink mein bhi :) The beauty of vodka is that...it doesnt smell as much as a rum or whisky,after being consumed

•
14 Jun 16
@nomus24g
yeah!

Vodka definitely doesn't have any awful smell!