Why did Japanese, Jewish and Native American get checks to cover up American Crime but not African American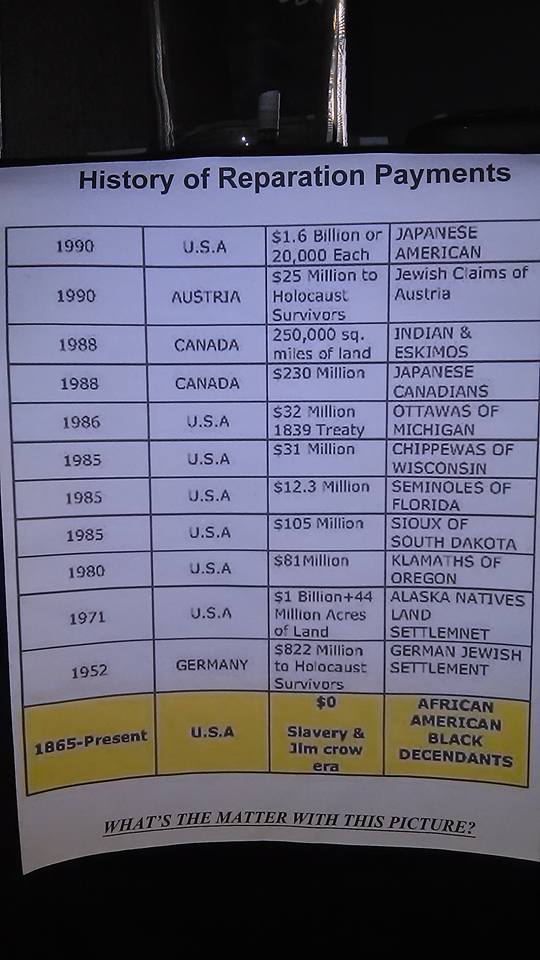 United States
June 14, 2016 2:23pm CST
If you look at the image you will see various settlements from the USA along with other countries for the crimes committed against a particular group or race of people EXCEPT African American..... So what say you ? Do you think its time USA cut that check ? I don't see anything wrong with it.
6 responses

• United States
14 Jun 16
Holocaust reparations were not paid by America. There have been several attempts made in the past to pay reparations for slavery, but somebody always did something to stop it and nobody has been able to come to any agreement on how it should be paid

• United States
15 Jun 16
@LoriAMoore
I hear your points HOWEVER Federal Government was involved with Jim Crow so US Govt had involvement with discrimination against brown people. As far as proof goes I say find the proof you can find and work with that.
@cupkitties
What proof do you have that the US Government tried to atone for Slavery and Jim Crow ?

• United States
18 Jun 16
@compbabygirl
I haven't mentioned the US government. I'm not sure if you grew up here in the states, but that is something most of us should remember from history class. Remember "40 acres and a mule"? If not, look it up. There were also other bills that were introduced demanding payment for ex slaves and to punish the church for encouraging slavery, but those were also ignored. The information is readily available online.

• El Segundo, California
16 Jun 16
do not jump to conclusion first

• El Segundo, California
16 Jun 16
@compbabygirl
i mean, you only based your thoughts on that small facts written in small paper. why not made some research

• United States
16 Jun 16
@trivia79
There is nothing to research because it never happened.....

• Chile
14 Jun 16
African american need another Dr. Martin Luther King Jr.

• United States
14 Jun 16
I don't think another MLK leader is going to do it this time. I think we need to speak their language this time around unfortunately....

• Kingston, Jamaica
2 Nov 16
The debate of Reparations rages in Jamaica. It comes out of the mouth of the biggest scammers and most dishonest. For what is really necessary is Repatriation. Every single person of African descent in this Western Hemisphere should be given a DNA test to learn what part of African s/he came from, be able to learn their culture and have a Right of Return... Just as Marcus Garvey fought for.

• United States
19 Jun 16
That's very unfortunate. Thank you for the information.

•
15 Jun 16
I did not know this; thank you for sharing this. It's very useful information.