Pub Sign Photo Study - The Orion - Withington, Manchester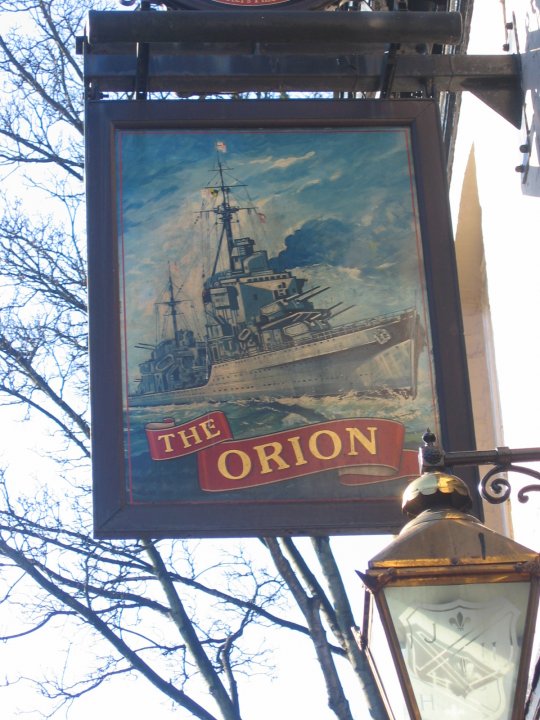 Preston, England
June 19, 2016 4:22pm CST
This formidable action picture depicts the Battle Cruiser HMS Orion, which had quite a big part to play in the Second World War. Built in 1934, she had an unusual mission in 1940, sailing to Canada to pick up the ashes of the novelist John Buchan, best known as the author of The 39 Steps, and bring them home to Britain. Most of her engagements were in the Mediterranean, helping to get supplies through to and from Malta and Greece in waters heavily patrolled by German U-boats and other vessels. Orion, which counted many Manchester men in her crew, had her finest hour in 1941's evacuation of Crete, an operation comparable to the previous year's evacuation in Dunkirk. The Orion, under heavy fire by the Germans, lifted 1,900 men, mostly civilians off the shores but she was then badly hit herself and 360 men died. Repairs took until well into 1942, but The Orion was now fitted with radar, and served in the allied liberation capture of Sicily before having the honour of firing the very first shots during the Normandy D-Day landings in 1944. Her crew obviously thought actual combat was over for her in 1945 but she found herself under unexpected and unprovoked bombardment in 1946 from the shores of Albania though no one was injured. It is now regarded as one of the first engagements of the Cold War. The Orion was scrapped in 1949. The pub itself is however named after an earlier warship, an ironclad, from 1879 on which the first landlord, John Norbury served. She was used as a guardship in Singapore and Malta and decomissioned in 1913. Arthur Chappell
4 responses


• Bunbury, Australia
20 Jun 16
Another interesting background on a pub sign. It is a great picture of the ship ploughing through the water under a cloudy sky.

• Los Angeles, California
19 Jun 16
That's a bold ship. Collectors would eat these signs up.

• Denver, Colorado
19 Jun 16
I like this one as well. Love the battle history!