DO U LOVE FULL MOON ?

India
3 responses

•
7 Oct 07

I like the Moon through all its phases, but especially the Full Moon. I take pictures almost every full moon... it looks so magickal sometimes. One time, I think it was August, there was a golden ring around it, like the one in the picture. My nickname in Pogo? Moonchild. ha ha ha. Brightest Blessings and happy moongazing.

•
7 Oct 07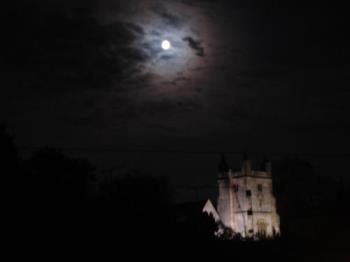 Here's another quite interesting one I took of the Full Moon over the lit-up church and I hope you don't mind me adding a little poem I wrote about the Moon. :) FULL MOON In the darkening sky, if you cast your eyes, You will see the silver lady rise,Bathing the world in a steely blue Edged with a haunting, silver hue. Higher and higher she rises with grace, Shrouding the trees in a cloak of lace, Sending her rays to the waters below, Casting reflections in ripple and flow. Oh, such a majesty gracing the sky, Passing a twinkle to stars riding high, Oh, what a magickal sight we purvey From dusk, till the night gives in to day. And so, she sinks in horizons west, Content in the knowledge that we saw her best, She'll return once again when the sky turns black, And if you should whisper, she might whisper back. Copyright © by Darkwing

• China
9 Oct 07
I like some little poetries.They are nice and lively.Full moon means reunion in us China,and on that day,the moonlight is bright and gentle ,it make me feel so good,calm and quiet.