Gratitude Challenge Day #708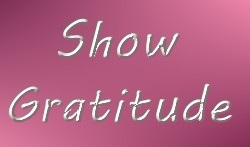 United States
June 20, 2016 6:39pm CST
Well hello there, everyone. It's been a few days since I posted the Gratitude Challenge, and I want to get it posted earlier than usual today. I am planning to switch to my tablet as soon as I am finished with my work. Sooo, here are the things I am grateful for today. 1. I had a pretty good weekend for the most part, and I especially enjoyed gathering with my loved ones on Saturday. 2. WWE Money In The Bank was on last night, and WWE Raw is on tonight. 3. Babysitting went fine today, and the munchkin is pretty much back to himself. 4. One of my favorite writing teams uploaded a bunch of work. 5. I feel a cold coming on, but luckily I still had medicine from the last time I had a cold, so I was able to take something for it. I think I am going to wrap this post up now. I hope everyone has a wonderful week, and I'll get back to you all soon. G'night -or good morning- and take care, everyone. Photo Credit: I made this graphic using PhotoImpact 6.
1 response

• Summerville, South Carolina
21 Jun 16
An old friend of my husband's (haven't seen in 20 years) is here for a short visit. It's fun listening to them reminisce.