Hot Yesterday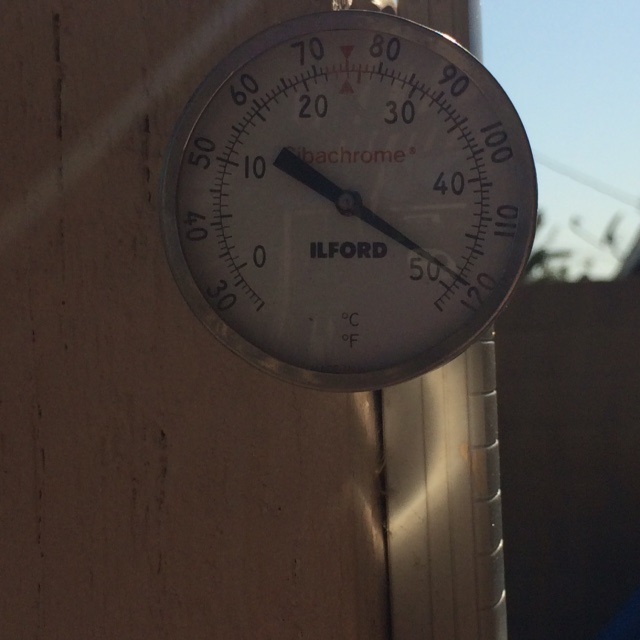 United States
June 21, 2016 7:20am CST
This pic shows a thermometer on our back patio yesterday afternoon. It doesn't accurately depict the temperature as it was in the sun, despite looking dark. When I went out, I had to put on shoes because the cement was too hot to walk on barefoot. It got up to about 107F (42C), but dropped rapidly as soon as the sun went down. Our cat stays outside because my husband is allergic. I brought him in (the cat. The husband is usually inside). He sat quietly at my feet for quite a while. Then he became his usual roaming, inquisitive self, clawed the side of the new couch and demanded attention. When he started looking for a place to piddle he had to go back outside. By then, both he and the outdoors had cooled down. Nevertheless, I gave him a mini bath in the kitchen sink—head, neck and paws—for which he cried like I was torturing him. ...Happy First Day of Summer...
8 responses



•
22 Jun 16
We get rain showers several times in a day but it is still hot.


• Colorado Springs, Colorado
21 Jun 16
We tied the record at 97 a couple days ago. Ten more degrees probably would kill someone if 911 couldn't get there on time.

• United States
21 Jun 16
Not sure about Orange County where I live, but in Los Angeles, they open "cooling centers," community centers where people can go to get out of the extreme heat. One of the things that I saw on the news in this recent heat wave is a hiker found a homeless guy in the desert "in an altered mental state." The paramedics were able to get him out. I don't know what's happened to him since, obviously. The heat does strange things to people.

• United States
21 Jun 16
It was hot here too but not as hot as where you are...that 107F is too hot for me

• Los Angeles, California
21 Jun 16
It was blasting 109 degrees here in my part of LA.

• Bunbury, Australia
21 Jun 16
Some cats really don't like water do they? That is very hot - 107! Wow!

• United States
21 Jun 16
Mine sure doesn't. I used to bathe them in the bathtub in my old condo. They wouldn't speak to me for a week. Yes, it's hot. It get hot like that farther inland and in Arizona where my brother lives (I got no sympathy from him), but in this area, it generally doesn't get quite the bad.


• United States
21 Jun 16
Which is the reason I brought him in. And the reason I risked blooding myself giving him a mini bath before letting him back outside. I don't leave him out there completely on his own. I go out there every few hours and hose down his enclosure, the area under the shade tree and the bushes near the house where he like to sleep. It doesn't change the air temp, of course, but it gives him some cooler, damp areas to lie around. In the past when I can't be home and it's been like this, I take board him for the day at the vet's. He hates it, but at least he's not in danger.