Repaired a heavy Bench lying idle at the corner..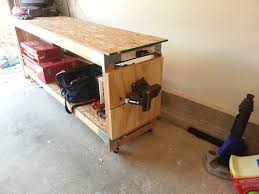 Hyderabad, India
June 24, 2016 1:03am CST
I noticed that a heavy bench was lying idle in the corner of my reading room. I know that it is a very heavy one made of quality wood. If I dispose of it I can get some Rs.2000/- (about $40/-).But, if I repair that one it serves my purpose. Again going for new one will tell upon my pocket. The new one will cost nearly Rs.5000/-. So, decided to repair that one. I got a good idea. Pickout a clean cloth and cleaned the bench first removing all unused articles kept over it. Took a sand paper and the surface was given a nice finish . It gave a good appearance. I pickdout the white paint I kept in the shelf and applied to the wood as a first coat. Allowed it to dry. It was white primer from Nerolac. Again applied a second coat. It started shining. I know it should. Searching for the Caster wheels lying idle in the Almirah and fitted to the legs of the bench with a nice hand drill. The work was over within 1 hours. The bench has got wheels now and I do not wheel it heavy anymore. I am feeling proud of myself for the repair and for putting it into use again.
3 responses

• Philippines
24 Jun 16
Where is your finished work? I would love to see it.

• Hyderabad, India
24 Jun 16
It is kept outside. still to be dried. I will post a picture of it soon.

• Philippines
25 Jun 16
@shivamani10
I also love to see your finished work. I look forward to the photo youre going to post.



• Hyderabad, India
24 Jun 16
It makes the work easy. The only thing is you should have time and proper tools to get the thing done.

• Philippines
25 Jun 16
@shivamani10
Yes i agree ...otherwise you would only ruin an old but good quality furniture.

•
24 Jun 16
Good job DIY

Today DIY earning $20