Watt a relief ..... we're gettin a cool spell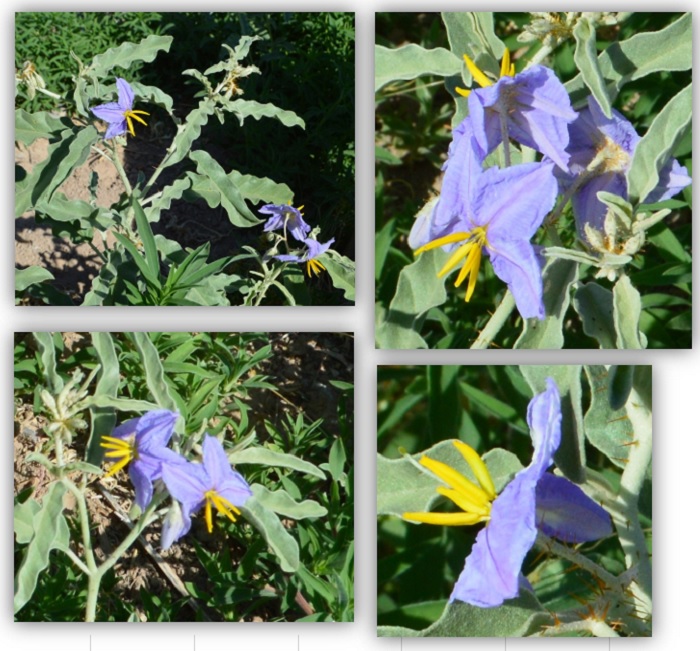 El Paso, Texas
June 26, 2016 9:14am CST
Whew, the weatherman claims we'll be in the mid to low 90s for a while, watt a relief. Mind you, I like it hot but for now it won't hurt my feelings for it to be a bit cooler. I got a few photos of the weed I've always thought was kinda pretty although if I try to pull them out I do have to wear leather gloves, the stems and leaves have teeny barbs on em which is really hard to get outta the skin once they're in. I found the name of them on a website, they're called rock columbine .... well, it does look similar so I figure it's some kinda columbine. Do meadows in your area have these flowers? Most desert flora here tends to be either yellow, orange or red but these little dilly are tween blue and purple.
7 responses

• Anniston, Alabama
26 Jun 16
I am East of Tx. so what you get comes my way with a dose of 100% humidity. We plant those flowers here and they aren`t considered weeds.

• El Paso, Texas
26 Jun 16
I have the feeling these were brought to the desert by Europeans who wanted a touch of their homeland in their yards, do the ones you plant also have those teeny thorns? How do you breath in all that humidity? I'm so glad we don't get high humidity here on the border of NM and TX.

• Anniston, Alabama
26 Jun 16
@rebelann
being born here I reckon its just natural, when I was out in Tx. I could NOT breathe it was so fry, LOL. No ours don`t have thorns.

• El Paso, Texas
26 Jun 16
I wonder if ours is a different type of plant vaguely related to the columbine
@andriaperry


• El Paso, Texas
26 Jun 16
I hope the weather stays nice here for a while, both Meetzee and Max are still a little stressed about their new surroundings.

• El Paso, Texas
26 Jun 16
Yes, it will take time
@LadyDuck
I'm not letting those two run loose in my house for at least a month or more, they've been outdoor cats for the last 4 years so I don't even know if they will feel comfortable indoors now.



• El Paso, Texas
26 Jun 16
Yes it is kinda pretty but boy do I hate those itsy bitsy thin thorns the dang thing has. It'll be a nice treat for a few days but I don't doubt it will get back up to the 100s

• United States
26 Jun 16
Nice to see some blue and purple among all the yellow, orange and red! We will hit 91 today and tomorrow, then a few cooler days.

• El Paso, Texas
26 Jun 16
Supposedly we'll be in the 92-95 range for a few days, that'll be nice and cool for now

• Charlotte, North Carolina
26 Jun 16
These look a little similar to the lilies we have here, where are orange.

• El Paso, Texas
26 Jun 16
I never would have thought them to resemble lilies, these flowers are very tiny


• El Paso, Texas
26 Jun 16
I'm beginning to think they either got the name wrong or else the original columbines brought in by settlers have mutated to this plant.

• Goodfellow, Texas
26 Jun 16
@rebelann
- Now, don't you get all puffed up and howdy-proudy, but I surely do like your collage pix. Good stuff...


• El Paso, Texas
26 Jun 16
Why thank you .... I'm just playin round in xcel right now, who knows what'll catch my fancy next week.