What do you think about Donald Trump?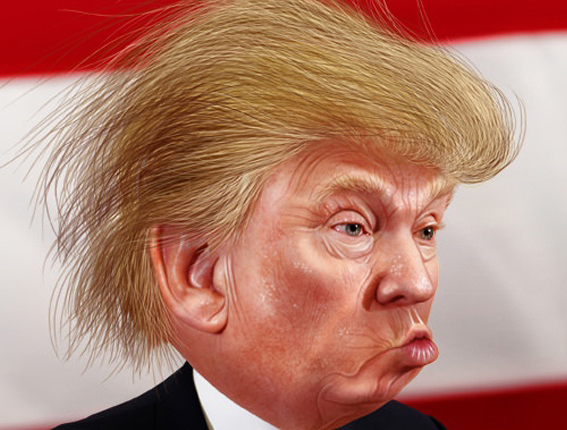 Bathurst, New Brunswick
June 26, 2016 10:30pm CST
Is Donald Trump really as crazy as he seems? As an outsider looking in, a Canadian, he's been so up and down during this crazy rollercoaster of a campaign. I haven't been following his presidential campaign as closely as I used to since March of this year since it's become unbearably maddening. As a Canadian and fellow human being, I feel whatever happens in the U.S.A. seems to affect the entire world, especially those who reside on each side of the border. At first, he seemed to be making some valid points, maybe to get traction. Present Day though, he is crazier than ever and people seem to be loving it, and he's being smarter than ever. His target demographic seems to be non-voters and gun-lovers, which is a large amount of people. So the answer in my opinion is crazy, Donald Trump is crazy as ever and being extremely smart about it by spewing hate. I hate to have to say this, but Donald Trump and Hitler have some very similar thoughts (Kicking out certain cultural demographics, shutting down religious buildings and such). Just how far will he go if he becomes president…
6 responses

• United States
27 Jun 16
That picture is so funny. He definitely looks like that when he says the word huge. I'll keep it simple. He's a loud mouth and an attention seeker.


• Bathurst, New Brunswick
27 Jun 16
Very scary! It's a very real possibility too! Let's hope Hillary wins (the lesser of two evils). But one of the evils is the DEVIL, lol.

•
25 Mar
@vsvs56
(23 I understand there are those out there that are not happy that Trump won the Presidency and that is how they feel. I believe that when Obama was President people were not happy either. So, I think that it is high time not to continue to bad mouth Trump because he is the President now. For me a Jew and living in Israel he is very good for us and I like him and so glad that he chose Bolton. Bolton also is good for, We finally have someone that cares about us and our well being and that lets our Prime Minister in the front door and not the back one.


•
27 Jun 16
He's different thats all I can say. The reason most non voters are voting for him is simply because they are tired of the same old same old leaders we had for the past decade. They want someone different and maybe someone who can bring change. Whether that change is or bad is yet to be determined.

• Bathurst, New Brunswick
28 Jun 16
@Dramista
I think this is true. The old way isn't working, it's just a shame that there aren't any better choices. Honestly, I just feel bad for Obama, he could of done a lot more if he had more time, but he's just a scapegoat for what Bush did the 8 years before, and this pretty well guaranteed there won't be another black president ever again. As if skin color has anything to do with anything. If only he could've ran this time around. My partner and I actually like Trump for a bit there, when he was making a bit of sense, but this was short lived. There are some good points, he's not a politician, so he doesn't have that frame of mind. But now he's gone off his rocker, spewing hate and racism. There definitely needs to be a change, things are just getting a little out of control. I don't even watch the news anymore, and barely read the news, it's just too depressing.

•
28 Jun 16
@vsvs56
Many people are angry and he uses that anger to fuel his campaign. I actually would choose Trump over Hillary since Trump is used to getting things done and producing results. Did you hear his latest speech on a better america? It was revolutionary

• Austin, Texas
4 Aug 16
Just responded to this question which was also posed by
@Diana00
. How far will he go as POTUS? Hmmm ... ?? Where is a prophet when you need one? Sadly, no more prophets. Will have to rely on prayers. Yeah. We surely need some Divine intervention on this election!!

That is a great picture of Trump!! Where did you get it??