Daily Bible Study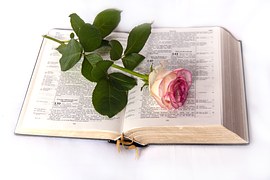 Green Bay, Wisconsin
July 9, 2016 11:50am CST
Day 112 Psalm 112 Psalm 112:1 Praise ye the LORD. Blessed is the man that fears the LORD, that delights greatly in his commandments. 2 His seed shall be mighty upon earth: the generation of the upright shall be blessed. 3 Wealth and riches shall be in his house: and his righteousness endures forever. 4 Unto the upright there arises light in the darkness: he is gracious, and full of compassion, and righteous. 5 A good man shows favor, and lends: he will guide his affairs with discretion. 6 Surely he shall not be moved forever: the righteous shall be in everlasting remembrance. 7 He shall not be afraid of evil tidings: his heart is fixed, trusting in the LORD. 8 His heart is established, he shall not be afraid, until he see his desire upon his enemies. 9 He hath dispersed, he hath given to the poor; his righteousness endures forever; his horn shall be exalted with honor. 10 The wicked shall see it, and be grieved; he shall gnash with his teeth, and melt away: the desire of the wicked shall perish. We want to succeed. We want our children to succeed. We want a place among our peers. The psalmist found that in praising God, he received far richer blessings than could be gotten from his peers. He received his blessings from God. He found his family blessed, and God established him and remembered him. What more could a person want from life? When we put our faith and trust in God, he will bless us, and our family as well. Nothing will cause us to be afraid, no matter what man does to us, and we will see God's hand take care of our enemies. In a world turned upside down with tragedy, there is only one thing we can rely on, God. God will take care of us in the midst of tragedy, and he will dispose of our enemies. We only need to trust in and rely on him to take care of us. Praise is one way to see that happen in our lives. Let's pray: Father, help me praise you when life turns tragic. Help me seek you and know your blessing on my life and on my family when I place my faith in you. In Jesus' name, I pray, amen. Copyright © 9 July 2016 by Valerie Jean Routhieaux Image courtesy of Pixabay
4 responses

• Roseburg, Oregon
9 Jul 16
No matter what God will be praise in your life but you have to know when he helps you. Some people just do not know.

• Ireland
13 Jul 16
I think it's difficult for some people to relate to this sentiment as they have not felt the presence of God in their lives.

• Green Bay, Wisconsin
14 Jul 16
It's not just difficult, it's impossible.

• Ireland
14 Jul 16
@just4him
Indeed, I always wonder why that maybe, I mean I know perfectly great people, who just never felt anything..

• Green Bay, Wisconsin
14 Jul 16
@Drosophila
Those people don't trust in or believe in anyone but themselves. The idea of a God who loves them is far above their concept of reality. Reality is what they can touch and see, nothing else. You're a scientist, I'm sure you can relate to that.



• Green Bay, Wisconsin
10 Jul 16
Yes, God is indeed to be praised.