She's doing so good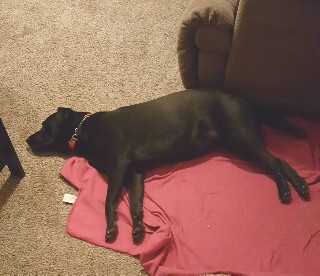 United States
July 11, 2016 3:09am CST
Sophie, our black Lab is doing so good. It's been about a week now, that we've been able to not have to put her in the laundry room at night. Being a lab puppy, they tend to be chewers, and she proved that to be true. She chewed three chairs up and one trunk, in our Arizona room. Needless to say, we couldn't trust her to roam around the house at night, while we slep, because we didn't know what she'd get into. So she slept in the laundry room, It's big enough, she didn't mind it. Seeing that she'd been doing pretty good, we decided to give it a try, and she's done great. We love having her out, and even feel more secure. We can tell she loves it too, you can see her sleeping on her blanket in the living room. Sweet dreams sweet girl. Where do your fur baby's sleep?
6 responses


• United States
12 Jul 16
Our little Angel Baby loves sleeping with us, once in a while, but she has 3 other doggie beds.

• United States
12 Jul 16
@lilnana1111
That sounds familiar sleeps with us even though they have doggie beds. lol lol

•
12 Jul 16
Every species have their own interesting character, sometimes it's funny, like in your case.

• United States
12 Jul 16
Yes, they do have their own uniqie personality.

• Bunbury, Australia
12 Jul 16
My fur baby (or wool baby) has a shed that he sleeps in if it is raining. He is a sheep.


•
12 Jul 16
Ours are ferocious ones - pitbulls. They sleep inside their respective cages.

• United States
12 Jul 16
Sophie started out in a kennel, but has graduated.

• India
11 Jul 16
Good to hear that your little one has given up chewing. They do that up to a time and on their own give up. Preiti our pet has her own bed in the bedroom. She has one on the couch too where I watch tv.

• United States
12 Jul 16
We tried giving her a bed, she chewed it too pieces, even her blankets she chews up, this one has lasted her the longest.

• United States
11 Jul 16
so glad that y'all're trustin' her to behave whilst ya slumber :) no doubt such does give ya a sense 'f security. the pup here that comes indoors 's got several sleepin' places - her kennel (there's no gate, she jest likes to hang out there when she's feelin' stressed), 3 diff'rent pillows'n the livin' room floor 'n then a bed beside mine. she sleeps'n one place a bit 'n then's prone to movin' to 'nother. most oft, she winds'p by my side ('n her bed). durin' the winter though, she's snuggled'n front'f the woodburner, lol.

• United States
12 Jul 16
She loves her blankie, hubby calls it her wubbie, lol.