MARVEL vs DC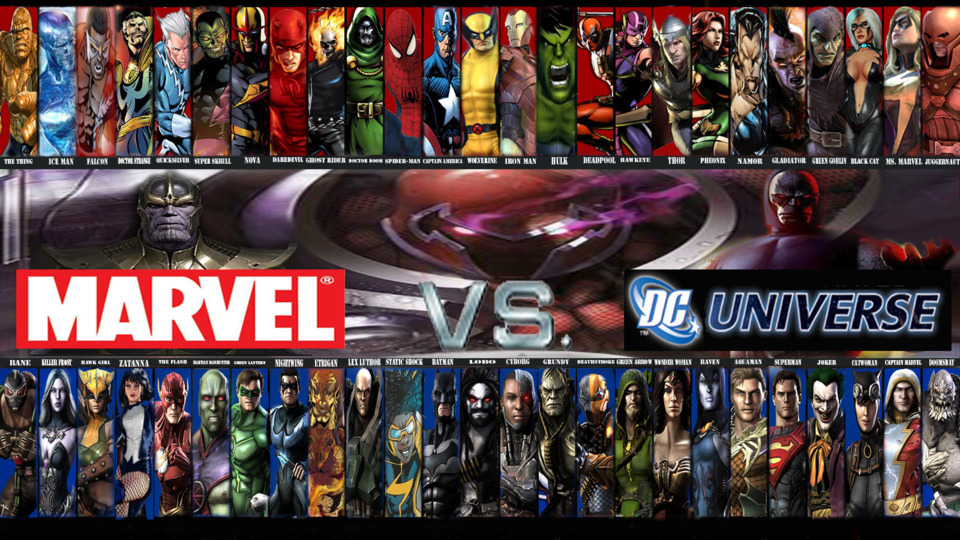 Kolkata, India
July 12, 2016 11:21am CST
Now this is an interesting debate....MARVEL VS DC. A part of the crowd (as of now) takes the DC characters to be the so-called "REAL SUPERHEROES" of all time. However, as far as the next generation ultramodern, tech savvy, intellectual heroes are concerned, the MARVEL guys are surely making a mark in history. Now, the discussion takes a steep turn when we turn our attention towards the movies based on these two "comic brands ". On one hand where Christopher Nolan created an absolute masterpiece with THE DARK KNIGHT trilogy brought to life by Christian Bale as Batman, whereas Zack Snyder's MAN OF STEEL failed to create an impact in many. On the other hand talking of MARVEL, well IRON MAN seemed to set a benchmark of modern age, humorous and intellectual superheroes. It doesn't end there ....we have THE HULK, SPIDER MAN, THOR and the latest addition to its collection DEADPOOL. Don't just come to any conclusions yet....because we still have their associations named THE JUSTICE LEAGUE and THE AVENGERS. Now JUSTICE LEAGUE has still not been made into a movie, THE AVENGERS (without any doubt) managed to grab a lot of eyeballs. So whose side are you on???????
2 responses

•
12 Jul 16
I am DC fan for life but Marvels make great movies and DC lacks in that department (Dark Knight trilogy was an exception) and DC makes good TV series. Just look at Arrow, Flash or Super girl and on comics part they both are fabulous.

• Kolkata, India
13 Jul 16
Even I am an ardent DC fan..but I do hope they manage to make it big on the "giant" screen :D

•
13 Jul 16
@Oive_forum
Yes I feel the same btw DC's suiside squad is coming next month and I am very excited


• Kolkata, India
15 Jul 16
@Hercules7
I am actually looking forward to justice league next year


• Calgary, Alberta
12 Jul 16
There are already comics crossovers and there is even a comics were they merged characters. Superman and captain America fused into one character. Storm and Wonderwoman fused into one super powerful being, They call it Amalgam Universe comics,

• Kolkata, India
12 Jul 16
Yeah even I heard of this "crossover trend"...seemed interesting

• Calgary, Alberta
12 Jul 16
@Oive_forum
Marvel is more interested with crossovering with Capcom at this moment, they seemed to be done with dc for now.

• Kolkata, India
12 Jul 16
@CaptAlbertWhisker
Well what i have heard is that JUSTICE LEAGUE has already gone on the floors and will be released next year