What an Annoying Squirrel

Beaver Dam, Wisconsin
July 13, 2016 6:22am CST
We have one squirrel that seems to be obsessed with our gutter. It's up there now grinding its teeth on one of the nails holding it up. It has done that in the past and I'm not sure if it does that for squirrel-related purposes or just does it to make the loud, obnoxious noise to get our attention.
6 responses

• United States
13 Jul 16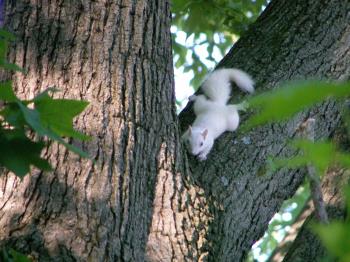 I've seen lots of people pestered by them, but the dozen or so around here don't mess with the house any...but then again, maybe they realize if they start messing up we'll stop feeding them

• Beaver Dam, Wisconsin
13 Jul 16
The only thing I can figure is maybe it wants us to throw out some food for it and is trying to get our attention.


• Philippines
13 Jul 16
That's so cute. No squirrels around here at all. The only time I saw a squirrel was when i was walking in some areas in Bangkok with a friend and then a squirrel passed by. My friends jumped out of fear. She told me she hates squirrels.

• Los Angeles, California
13 Jul 16
Squirrels are cute and all but can be pests.