Was the Coup in Turkey ..concocted....?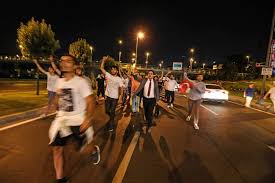 Hyderabad, India
July 17, 2016 8:51am CST
I do not believe if the coup in Turkey lived for short. Never at any time there had been an attempt to stage a coup so feeble and so a week. The chief did not support the coup. Neither Airforce nor the Navy commanders had supported it. The President There was neither political or public backing either. The Coup could control neither the social media nor the studio. For many hours it was not clear where the president was Erdogan was. He was Aegean resort . Ankara and the place of the government were not a safe place and he addressed the public directly from Istanbul and urged the people to come out to the street. The moment he entered in the Ataturk Airport and started addressing there were clear signs of 'regaining control of the situation' appears to be ridiculous. The Autocraft as he has been termed in the media, purging the military and judiciary with widespread discontentment could regain the control of the situation. Are the plotters of the Coup lacked that much of sense to resort to Coup without the support of Public, Air Chief, Navy, and Army? Are the plotters lacked that much of planning in these days of sophisticated technology? Who was the commander that took charge of Coup operation? What was he .?..not known so far.. Killings 253 people in thwarting the attempt is not a big figure when compared to ISIS killings. Arresting 6000 is a part of routine nowadays for consolidating one's own position. The analysis clearly reveals it is neither an act of treason nor a coup but an act driving Turkey towards DICTATORSHIP. In this context the reactive statements of U.S and Russia should not be overlooked.
1 response