What do you say about it...?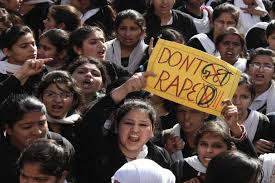 Hyderabad, India
July 19, 2016 11:58am CST
Recently in India, many rapes, loots, robberies, misappropriation, and kidnappings are taking place.They are totally on the increase. There is no protection for ladies There is no protection and safety for the hard earned money of retired employees who generally keep and deposit them in Banks expecting some fair and lucrative interest. When it comes to a raping of women particularly in India and the ladies, different people have different reasons to attribute. Wearing a western dress and moving freely on the Indian roads may perhaps be not a valid reason. if that is the case, the situation would have been as alarming in western countries as in India. So, what is main reason? It is the fault of parents, teachers, education system, loosely knitted Acts and rules? or is it judiciary or the Police Department or our policy makers? The Mistake lies with whom?
1 response

• India
19 Jul 16
yea i too have started so many discussions regarding this. it is really sad and always there are news about this only.