Busy making money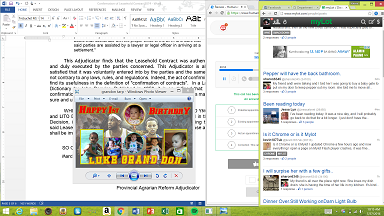 Philippines
July 26, 2016 9:28pm CST
Hi guys, I think I'm really back to business now.. I just hope that everyday I wont forget to Log-in with myLot since, as you can see, this is how I make money.. I call it, Full Blast Multi tasking.

. I'm enjoying it but it's stressful. So, I have online and offline tasks that I'm working with. I was really busy doing layout for party favors and paraphernalia. And at the same time encoding my Office works, humanatic, facebook and doing myLot. These are all done in one computer and while I'm doing this, I am also working on the DiY party favors I'm going to sell. whew!


9 responses

• Philippines
13 Aug 16
That's how you do it! Kudos to you for juggling one task to the other. It does get easier cuz you're doubling up your online earnings from different online opportunities. Great guide. :)

• Philippines
28 Jul 16
That is good because you will have lots of money coming in also .


• Philippines
27 Jul 16
i envy you. i can't even cook two dishes at the same time.



• Hyderabad, India
27 Jul 16
You are great..So many jobs at a time. Leave some work to olthers also.

• Philippines
27 Jul 16
Now that's what you call a real multi-tasker! For several years here in mylot that's what I do as well. They said women are good at multi-tasking.


• Wausau, Wisconsin
27 Jul 16
Wow you sound very busy lately. I do MyLot and TSU mainly.