Daily Bible Study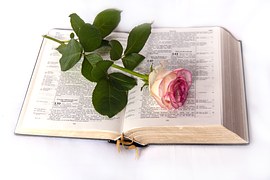 Green Bay, Wisconsin
July 28, 2016 8:50am CST
Day 131 Psalm 119:97 Psalm 119:97 MEM. O how love I thy law! It is my meditation all the day. 98 Thou through thy commandments hast made me wiser than mine enemies: for they are ever with me. 99 I have more understanding than all my teachers: for thy testimonies are my meditation. 100 I understand more than the ancients, because I keep thy precepts. 101 I have refrained my feet from every evil way, that I might keep thy word. 102 I have not departed from thy judgments: for thou hast taught me. 103 How sweet are thy words unto my taste! Yea, sweeter than honey to my mouth! 104 Through thy precepts I get understanding: therefore I hate every false way. When we study something we love, we can gain more understanding of it than those who came before us: our parents and teachers. Even with today's increased information and progress in certain fields, we know more than people a generation ago. The psalmist made a habit of studying God's law. He memorized it so it was ready on his lips. In doing so, he found he had more understanding than his teachers, and even those who came before him. With understanding came wisdom and a need to keep evil far from his door. When we put the same diligence into studying God's Word as the psalmist did, we too will understand God's heart and want to keep his laws and testimonies. They become our life and the force that directs our steps. We will shun evil and not be partakers with those whose feet run towards evil. Solomon, the wisest man to ever live, had this to say about keeping away from evil people. Proverbs 1:10 My son, if sinners entice thee, consent thou not. 11 If they say, Come with us, let us lay wait for blood, let us lurk privily for the innocent without cause: 12 Let us swallow them up alive as the grave; and whole, as those that go down into the pit: 13 We shall find all precious substance, we shall fill our houses with spoil: 14 Cast in thy lot among us; let us all have one purse: 15 My son, walk not thou in the way with them; refrain thy foot from their path: 16 For their feet run to evil, and make haste to shed blood. (KJV) When we put all our strength in studying God's Word, we will not find ourselves in the same company as evil people. Instead, we might find those same people forsaking their evil ways and turning their hearts to God. After all, we were like them before we accepted Jesus as Savior and Lord. Have you turned your life over to God, accepting Jesus, his Son, as Savior and Lord? Do you spend your days in meditation of God's Word so you can be a ready witness for Jesus? You cannot know God's Word unless you study it. Let's pray: Father, help me to study your Word daily so I will know your heart and what your will is for my life. Help me to have a ready answer for those who come against me, and keep me safe in your presence. In Jesus' name, I pray, amen. Copyright © 28 July 2016 by Valerie Jean Routhieaux Image courtesy of Pixabay
1 response

• United States
28 Jul 16
Continuing to study the Word is very important, and something I've been slacking on!

• Green Bay, Wisconsin
29 Jul 16
I think I would too at times if I didn't post this every day, and not just here but to a few others in my e-mail contact list. I am so blessed because I have this to look forward to every day. It's more than a habit, it's a lifestyle for me and I just love what God is doing in and through me because of it.