Good Day For A Wedding....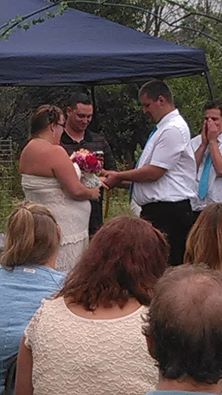 United States
August 8, 2016 1:34pm CST
This weekend was our oldest son's wedding!! We went out of town. The ceremony was outside and the weather was beautiful for the wedding!! They had a friend that became an ordained minister do the ceremony. Our son's daughters were the flower girls. (One daughter he had with his "now" wife.) Her other boys were the ring bearers. So, now I'm back to myLot to post and comment!! Happy Monday every one!! ~Peace~ photo is mine
3 responses


• Paradise, California
8 Aug 16
Congratulations to your son and his bride! I'm glad the weather turned out nice for them. Pretty cool they were able to have a friend perform the ceremony, too. I like outdoor weddings the best, but no matter the time of year "something" can happen. I went to one outdoor wedding where the weather was great, but a gaggle of geese showed up and honked throughout the proceedings and wandered around hissing at people, lol.

•
9 Aug 16
You just gained a daughter! Congratulations to both of them!