SuperTrump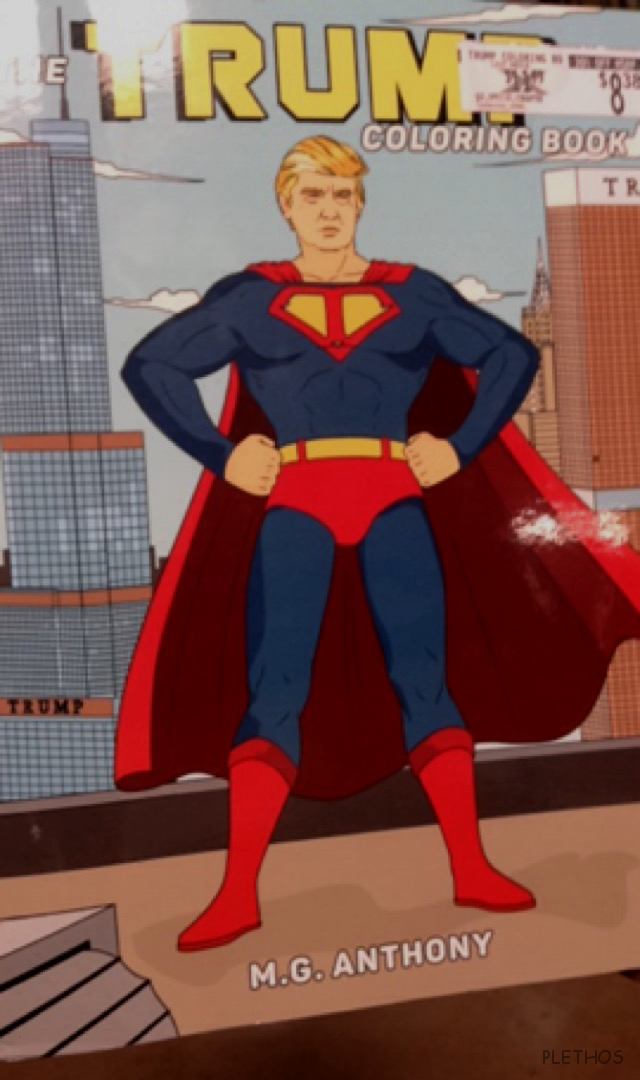 United States
August 16, 2016 9:59pm CST
I think I may have seen some parody, comedic gold this past weekend. While looking through the books and magazines section in my local Walmart this past weekend. I saw an actual coloring book with Republican presidential nominee Donald Trump on the cover. I did not look inside the book so I have no idea as to what its actual content is like. I couldnt get past the cover. The cover has him dressed in Supermans colors and costume. He is standing in the "Superman" pose with a couple of Trump towers in the background. I am seriously considering going back this coming weekend and buying it to have as a collectible. I came to a couple of conclusions after seeing this coloring book- 1) I hope Trump wins, just for the comedy that we will be an audience to during his presidency. 2) Maybe it will take a superhero type to "Make America Great Again". -Photo taken by me, Plethos-
7 responses

• Walnut Creek, California
17 Aug 16
If Trump wins, and we survive the next four years, it would be a testament to the greatness of the American political system, with the House and the Senate to keep things (in theory) sane and in check. I was trying hard to become a Conservative I (I've been a Liberal most of my life), but Trump has messed things up for me.


• Australia
17 Aug 16
I do hope and pray with you! God bless America!



• United States
19 Aug 16

• Australia
24 Sep 16
@anniepa
To change from failed Obama-Clinton Administration. Looking forward with vetted law-and-order legal citizens Making America Great Again! Our prayers for America to this hope of the future. Your whining and complaining is entirely up to you, alone, to figure out how you could get off them toward making your situation better by serving your fellowmen/women. See you ( in spirit) at the P.Debate on the 26th September. Have a really nice day!



• United States
21 Aug 16
It just might be a collectible too. And I wonder how much it cost.

•
17 Aug 16
I would buy it. In fact, if I knew you better I'd beg you to send me one so I can be the only person in England with such a monstrosity of delight!


• United States
21 Aug 16

Buy The Trump Coloring Book at Walmart.com

• United States
21 Aug 16
And Here (There is a Hillary one too!!

Buy The Trump Coloring Book on Amazon.com ? FREE SHIPPING on qualified orders

• United States
22 Aug 16
@Berniezeitler
- thanks for the link. reading further down the linked page, i saw another parody book that seems interesting based on hillary, " go the f__k to jail". temptation is strong ! ! !


• United States
23 Sep 16
@Plethos
Now that IS funny since there are so many investigations and pending cases going on against Donald it might be him going to jail. WHY is there a statute of limitations in child rape cases anyway??? That one starts in about three weeks.