Disappointed in 'The Boss'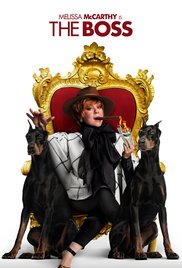 United States
August 21, 2016 2:06pm CST
I watched Melissa McCarthy's new movie, 'The Boss' the other day and I have to say that I was mildly disappointed. Not very disappointed; just mildly disappointed. It definitely was not as good as her recent movie, 'Spy.' The premise of the movie was pretty good but the actual story did not deliver what it could have. McCarthy plays a character that has no redeeming qualities and she is slightly funny in that role but the character never transforms into a better person and the viewer is left disappointed and simply not liking the character. There seems to be no point in what she goes through because she ends up exactly the same at the end of the movie as the beginning. What really bugged me about the movie, though, was the turtle-neck sweater McCarthy's character wore throughout the entire movie. She wore the turtle-neck unfolded so that it came all the way up to her chin. I realize she did this to make her face seem thinner but it was so outrageously annoying that it seriously detracted from the enjoyment of the movie. I just wanted to reach into the screen and pull that darn sweater down from her chin. It was billed as a comedy but I hardly laughed at all. Watching girl scouts beating each other up certainly wasn't funny. This could have been a funny movie with an uplifting message but it was neither. I was truly glad when the movie was over. Melissa McCarthy's movies had been getting better but with this one she seems to have taken a turn for the worse. Meanwhile, almost everyone I've talked to who has seen this movie say that they absolutely loved it and laughed hysterically throughout the movie. So maybe I am way, way off base. Maybe I somehow watched a different movie. Have you seen it? What did you think?
4 responses


• United States
21 Aug 16
Well,
@Teep11
the reason I sat through the movie is because I was hoping that it would get better. How can I consider it bad if I don't actually watch it? I kept hoping that there would be a transformation in the main character, a redemption of her wicked ways, a joyful ending, but it never happened.

• United States
29 Dec 16
If there's a movie I'm not enjoying I will watch it if other people in the room are committed to it - or if I think there's some redemption that may happen , the movie will turn around ... however if there is something that I really can't stand, object to morally, or am just totally bored by - I will usually turn it off

• Paradise, California
21 Aug 16
Holy cow, the tiimng on this post is amazing. I was just flipping through the movies on the new Smart TV amazon app. I paid for The Boss but haven't even finished it. Came across it passing through my video library - should I finish it? No chance, I said. Awful movie! So no "everybody" doesn't like it. Terrible script, just awful. Melissa McCarthy is too talented for it. Stupid stupid movie! I should have realized from the ratings. I laughed not at all, the little bit I saw of it.

• United States
29 Dec 16
I feel you there. I loved 'Identity Theft" and "The Heat" but I haven't really liked any of them since. ("Tammy", "Spy", "Boss") WHile "Boss" had some funny moments - I didn't really like the girl scouts beating each other up, either.

• Canada
22 Aug 16
I was very disappointed in it also. Ithe just want as funny as her other movies are. I found it slow and really not all that funny. I was expecting more from it. The turtle necks were a bit distracting I thought too. I didn't like them on her. I heard it had to do with her weight loss.