Donald's comment on Black America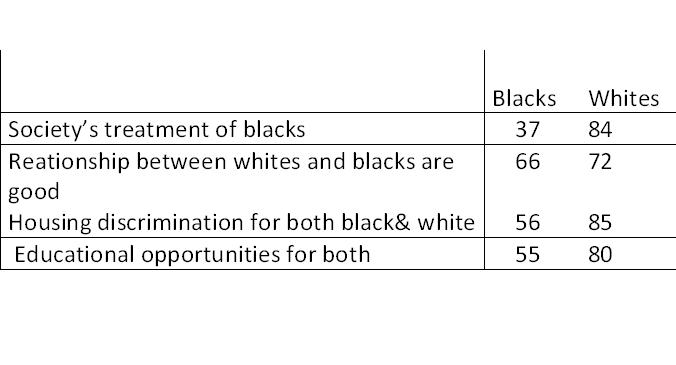 Hyderabad, India
August 29, 2016 3:13am CST
There has been a comment from the Republican Candidate Mr. Donald Trump to improve the conditions of Black in the U.S which has been viewed as unpleasant by the black as reports by some sections of the media. But this section of media is not able to digest the facts and bring to the notice of every citizen of U.S in view of ensuing U.S. Election 2016. As per a study report, the following is the reaction of the blacks and white on certain issues; A table posted above indicates the the % of replies to certain questions. One can easily understand how the discrimination exist still between the two groups on colour discrimination . Is it colour discrimination of racial discrimination is left to the imaginatiopn of you my friends.
3 responses


• United States
29 Aug 16
Hi S. I would really like to respond, but I need to understand what you are meaning.

• Hyderabad, India
30 Aug 16
Hi...any problem .Please ask me straightaway.

• United States
30 Aug 16
@shivamani10
I see that you are looking at a particular poll of sorts, taking into account Trump's idealistic improvement for Black life, and asking the question of whether there is color discrimination or race discrimination. Well, all I can say is that I don't need anyone making empty promises for one. There are issues concerning racial discrimination in America. Trump retweeted if not tweeted that Whites are mostly killed by Blacks. That was totally false (discrimination on Trump's part). The color of one's skin does not always determine race, but there are ways that some may perceive certain skin colors that are totally individual. Making some 'face value' attitudes that are not always appropriate. Polls are just counting a number of people's responses, not necessarily mine or yours; we are individuals more than numbers.

• Philippines
29 Aug 16
Maybe because Barack Obama is endorsing Hillary Clinton.