Daily Bible Study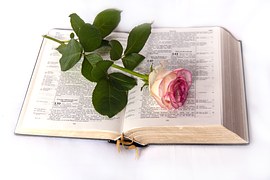 Green Bay, Wisconsin
August 30, 2016 8:25am CST
Day 164 Psalm 143 Psalm 143:1 < Hear my prayer, O LORD, give ear to my supplications: in thy faithfulness answer me, and in thy righteousness. 2 And enter not into judgment with thy servant: for in thy sight shall no man living be justified. 3 For the enemy hath persecuted my soul; he hath smitten my life down to the ground; he hath made me to dwell in darkness, as those that have been long dead. 4 Therefore is my spirit overwhelmed within me; my heart within me is desolate. 5 I remember the days of old; I meditate on all thy works; I muse on the work of thy hands. 6 I stretch forth my hands unto thee: my soul thirsts after thee, as a thirsty land. Selah. 7 Hear me speedily, O LORD: my spirit fails: hide not thy face from me, lest I be like unto them that go down into the pit. 8 Cause me to hear thy loving kindness in the morning; for in thee do I trust: cause me to know the way wherein I should walk; for I lift up my soul unto thee. 9 Deliver me, O LORD, from mine enemies: I flee unto thee to hide me. 10 Teach me to do thy will; for thou art my God: thy spirit is good; lead me into the land of uprightness. 11 Quicken me, O LORD, for thy name's sake: for thy righteousness' sake bring my soul out of trouble. 12 And of thy mercy cut off mine enemies, and destroy all them that afflict my soul: for I am thy servant. There are times when trouble seems to follow us around and we just can't get rid of it. Nothing goes right. People are unnaturally unkind and hurtful, and we cannot fathom a reason for it. David knew the reason he was always in trouble. He was the king of Israel and Israel had many enemies and was always at war, mostly with the Philistines. He was also at war with King Saul before he became king, and with his son, Absalom, after he was king. There seemed to be no rest from the trouble that hemmed him in on all sides. In those times David turned his prayers to God to come to his aid and not judge him the way he judged his enemies. He asked for God's mercy and loving kindness. He knew he could hide in God and God would keep him safe, and he knew God would deal with his enemies. As Christians, our number one enemy is Satan. He is merciless when it comes to causing trouble to come our way, raising up enemies who once were friends, turning members of our family against us, and generally bringing chaos into our lives until we want to throw in the towel. Yet instead of throwing in the towel, we need to turn to Jesus for help against Satan. He will prevent the fiery darts Satan throws at us. He will lead the charge against Satan and defeat all his purposes against us. It's time for Satan to throw in the towel and flee from us because God is on our side, and we will not be moved. Let's pray: Father, help me trust you when Satan comes against me. Turn all Satan's schemes against him. In Jesus' name, I pray, amen. Copyright © 30 August 2016 by Valerie Routhieaux Image courtesy of Pixabay
2 responses

• New Delhi, India
30 Aug 16
When trouble comes just look at God, he is always with us


• Laguna Woods, California
31 Aug 16
This was a beautiful Bible study. I hope you are starting to feel settled in your new place, now.

• Green Bay, Wisconsin
5 Sep 16
Thank you. Yes, little by little I'm feeling like this is my home now.

• Laguna Woods, California
5 Sep 16
@just4him
- That is how I am starting to feel about our new place, too. I get more comfortable every day!