What is the interest rate on your bank saving?

India
November 25, 2006 12:12pm CST
I get a measly rate of 4 percent, good for nothing. Also they calculate interest on the minimum amount in your account from 10 of the month to the 31st. We need a better interest rate. Our borrowings have interest rate from 10 percent to 40 percent. Very unfair.
6 responses

• Singapore
26 Nov 06
I don't put my savings in the bank. The interest rate from where I come from is even less than your 4%. I invest in forex and every week, based on daily interest collected, I get returns of about 40-120% on an annual basis. I'm not kidding because forex trading has this element of leverage. On a leverage of 1:400, for every $1000 you invest, you control and "own" that 400X more of currency and interest is paid on $400,000! I post my forex progress at www.forex4aliving.blogspot.com. If you are serious about growing your wealth, at least just check out my results here and decide for yourself.

• India
27 Nov 06
It is very interesting. I will definitely give it a try. I will have to find whether such avenues are available for retail investor in India. Thanks for the new information. True solid response in Mylot.

• Singapore
9 Dec 06
Right now, the good thing about being a forex retail trader is that everything is done via the internet. I trade with US brokers and all done via internet. Just have to make sure you find a good broker and not someone that runs off with your money. :)

• India
9 Dec 06
Can you send me your brokers address/url.


• United States
21 Dec 06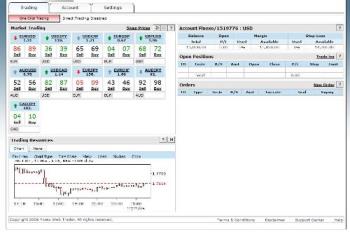 My country has 8% of interest rate. But i didn't put my money in bank. Just invest in Forex and have 10% until 20% increase per month. It is good to be one of our online income.

• India
21 Dec 06
It is great to know that u invest in forex. How long have u been on forex?

• India
9 Dec 06
stock market is best place in my view here is some of the finacial calculators to help you calculate: Compound Interest Present Value Rate of Return Annuity Bond Yield Mortgage Retirement. www.stockmarketwisdom.blogspot.com


• Philippines
22 Dec 06
Just put your money in Mutual Funds,UTIF,stocks etc. but not on the bank.Bank only has 3-4 % and you cant consider it as an investment since inflation is more than that.