I Received My First VoxBox!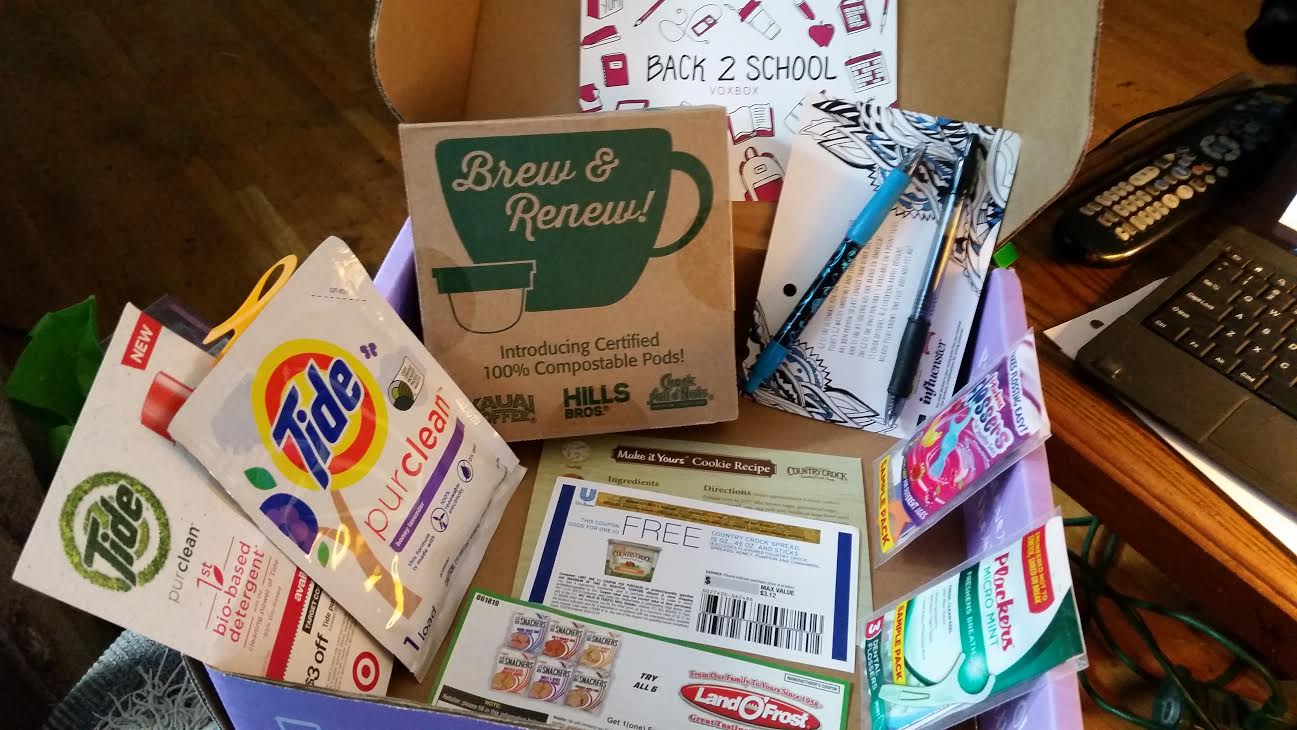 United States
September 9, 2016 12:09pm CST
I joined influenster some years ago. I rarely go to the site. I don't even know what you have to do to qualify for the boxes. I think not long ago I responded to an email with some sort of survey. Then I got an email saying I was getting the Back to School VoxBox. Whoa! Really? I see others all the time posting pictures about boxes they get. I'm excited that my box came in the mail today. Inside I found: A free coupon for Country Crock up to $3.12 and a recipe card A free coupon for Land O' Frost DeliSnackers 3 pack of coffee cups and $1 coupons Tide PureClean sample and $3 Target coupon 2- Pilot G2 pens 2 trial packs of Plackers flossers, one flavored, one regular For those of you who do the influenster program, do you have any tips for me to possibly be eligible to receive more boxes like this? In the past I did qualify for a Country Crock campaign, which was just getting a tub of the margarine.
8 responses

• Boise, Idaho
9 Sep 16
I haven't heard of this freebie. There are so many of them now days. I received a small box from pinchme.com and that was just a small pounch of cat food and a itty bitty tube of pain releiver. That's it. Took about six weeks for it to get here.

• United States
10 Sep 16
Only one time have I managed to get into to pinchme in time to actually get some samples. All other times I've been too late and they were all gone.

• Boise, Idaho
10 Sep 16
@marsha32
.....That's a bummer. I had just signed up and then had to wait for the product samples for six weeks.

• Canada
9 Sep 16
That is awesome! Gotta like getting something free.

• United States
10 Sep 16
I especially like the pens in this box.

• United States
11 Sep 16
sounds most interestin', i fear i've ne'er heard 'f such. kinda interestin' that they called this their 'back to school' box? one'd think they'd sent more schtuff fer the kiddo's.

• United States
11 Sep 16
I wondered that myself but then decided it might have been aimed at college aged back to school.

• United States
11 Sep 16
If I remember right the survey did ask how many children were in the home over 18. I marked one since my oldest daughter lives with us. So
@GardenGerty
might be right that it was more aimed at college students.

• United States
10 Sep 16
Never heard of that site before. Might go and check it out. You got some good things.

• United States
10 Sep 16
It was a pleasant surprise. Now I am to go share pictures and opinions using hashtags for the brands.

• United States
9 Sep 16
You really did get some nice things to try in that box! I have never tried influenster.

• United States
10 Sep 16
One thing I am to do is to share pictures of the things with hashtags in social media...including instagram. I am so busy all the time but know I have to do it.

• United States
9 Sep 16
I have never heard of that site before. I have just signed up right now. Thank you!

• United States
10 Sep 16
I think if you go to some of the products and leave reviews on things you have already used is the key to being picked to receive boxes, but it is time consuming.

• United States
10 Sep 16
@marsha32
Okay, thank you for the information!

•
9 Sep 16
that's cool. i've never even heard of this!

• United States
10 Sep 16
I joined a long time ago because of people getting boxes full of full sized products.

• Onaway, Michigan
15 Sep 16
Can't give you any pointers on how to get more because I have never got anything from them and I have been with them for quite a while. just quit going there i am giving up on a lot of my sites because I have been getting nothing from them.