Drivin down war highway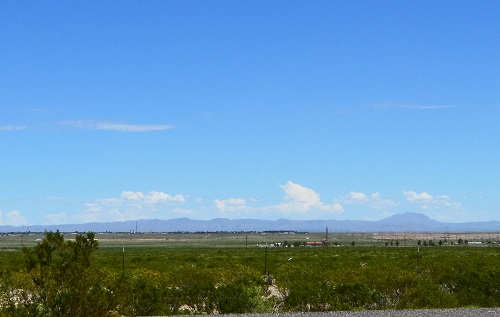 El Paso, Texas
September 15, 2016 9:22am CST
Ok, to be clear there never was a war on this road but back in the 1960s when dad was active duty Army he and many servicemen would get to their destinations for maneuvers using this road hence the nickname. He and his buddies would park their family cars at the end of Diana St. and an Army bus would take them to their destinations. Usually he'd be in the field for about 2 weeks. Can you believe that a lot of women back then didn't know how to drive? So in this shot you can see the highest peak of the Guadalupe mountains, it's about 110 miles in the distance. Can you see it? It's the gray hump in the horizon. How far in the distance can you see from where you live?
4 responses

• India
15 Sep 16
I can see the hills across the river.

• El Paso, Texas
15 Sep 16
Oh wow, lucky you, you have a river close by?

• India
15 Sep 16
@rebelann
just across the road...i'vea post with a view of that:)

• El Paso, Texas
15 Sep 16

• Canada
15 Sep 16
Very cool picture and I like the story that goes along with it. Thanks for sharing that with us.

• El Paso, Texas
15 Sep 16
I'm glad you liked it. Thanks.

• United States
15 Sep 16
That is a lovely view seen from a distance. Cannot see far here due to houses blocking all views. Just glad our neighbors yards are very pretty.

• El Paso, Texas
15 Sep 16
That's what I hate about cities.