Daily Bible Study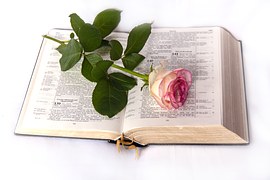 Green Bay, Wisconsin
September 19, 2016 7:34am CST
Day 13 Proverbs 4:20-27 20 My son, attend to my words; incline thine ear unto my sayings. 21 Let them not depart from thine eyes; keep them in the midst of thine heart. 22 For they are life unto those that find them, and health to all their flesh. 23 Keep thy heart with all diligence; for out of it are the issues of life. 24 Put away from thee a froward mouth, and perverse lips put far from thee. 25 Let thine eyes look right on, and let thine eyelids look straight before thee. 26 Ponder the path of thy feet, and let all thy ways be established. 27 Turn not to the right hand nor to the left: remove thy foot from evil. How many of you are good listeners? Your parents instructed you to listen to what they said while you were growing up. Your managers and supervisors instructed you to listen to your customers. Your teachers also instructed you to listen. Yet the biggest complaint people have is that people will not listen to what is said. Solomon also instructed his son to listen to what he said. He had good reason for doing so. His instructions were life and health. They kept him from evil and on the right path. He told his son not to even think about the ways of evil men who would take him down the wrong path, but to keep his focus in front of him, on God's Word, and he would be well established. As Christians, we are told God's Word is our compass, the blueprint on how we are to live our lives. If we heed the words of Solomon and pay attention to what God is telling us in his Word, we will never go astray. Satan will not be able to tempt us to do anything wrong, and our feet will never leave the path leading to eternal life. Did Solomon or God expect that his son or us would never stray from the instructions we've been given? No. God knows our hearts and he knows what will tempt us. Solomon and parents everywhere also know the hearts of their children. When someone does something they shouldn't, parents know immediately who the most likely person to do it was. God made a way for us so that whenever we do sin, we have a way back. He provided a Savior, his Son, Jesus Christ, to pay the penalty for every wrong we've ever committed and set us back on the path of salvation. As Christians we are told to keep our focus on the cross. When we do, we will never stray too far from the path and when we do, all we need to do is confess our sin and God will cleanse us and make us right once again. If you have strayed from the path, there is hope. Turn your focus back to the cross, back to Jesus Christ and let him know you are sorry for your behavior and he will make it right and bring you back into right standing with him again. Let's pray: Father, help me listen to you. Help me keep my focus on the cross and your Son, Jesus, to keep me from listening to whatever Satan is telling me. Keep me on the path leading to salvation. My hope is in you and not anything Satan has to offer. Let your Word be my daily compass. In Jesus' name, I pray, amen. Copyright © 19 September 2016 by Valerie Routhieaux Image courtesy of Pixabay
3 responses


• Green Bay, Wisconsin
23 Sep 16

• Canada
19 Sep 16
Another great lesson amen

• Green Bay, Wisconsin
23 Sep 16
Thank you. I'm glad you are enjoying them.

• Canada
24 Sep 16
@just4him
I always do..thanks for posting them

• Roseburg, Oregon
20 Sep 16
I think there are times in our lifes where we do not listen to others. But most the time people do listen.

• Green Bay, Wisconsin
23 Sep 16
I know I do my best to listen to other people.