His footsteps.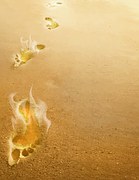 Johannesburg, Sudan
September 22, 2016 4:51am CST
In the deepest, final analysis, my life as a human being is based on the avoidance of suffering in any form. Actually everyday life is based on this foundation; avoidance of suffering and achievement of comfort. Therefore people are willing to pay billions to get shorter and easier ways to live and to do things. Fast foods, instant coffee, instant this and that. Now I am not saying that that is morally wrong. But the following of Christ has as it's very basis the idea of suffering. A suffering which he himself had to go through.... and knowing full well the tremendous benefits he derived from that, he invites us to follow his example. Actually Peter says that is actually our calling. ''For you were not called to this?'' When Peter wrote these words about our calling as followers of Christ, he became so cautious in his approach, hence using a question as opposed to an instruction. He was going to speak about the one thing that we as humans fearfully avoid: suffering. Then he continues bravely:- ''For Christ also suffered on our behalf'' , mentioning that the way of Christ's life was one of suffering, albeit on our behalf. That was the example he left us; one of suffering. ''leaving us an example ...'' but then comes the main thing that he wants to help us with;- '' that you should follow His steps,...'' 1Pe 2:21 Jesus is not opposed to a comfortable life. In fact he makes my life as comfortable as possible. But for my personal development as a Christian he sends me sufferings. Those are the sufferings that I need to learn to patiently endure. How do you experience the sufferings of Christ in your personal life?
1 response

• Jacksonville, Florida
25 Sep 16
My whole life has been hell. I have lost every material possession I own, with the exception of my car. Nothing before 2016 says that Teresa even exists.

• Johannesburg, Sudan
25 Sep 16
I sympathize with you. I know that feeling very well. Very often God allows such things to happen to us so that we have nowhere to go except turn to Him. Jesus Christ loves all people and he is waiting with open arms to receive those who wants to surrender their life to him. Joh_6:44 No man can come to me, except the Father that sent me draw him: and I will raise him up in the last day. Mat 11:28 Come to Me all you who labor and are heavy laden, and I will give you rest. Mat 11:29 Take My yoke on you and learn of Me, for I am meek and lowly in heart, and you shall find rest to your souls. Mat 11:30 For My yoke is easy, and My burden is light.