She picked her outfit out.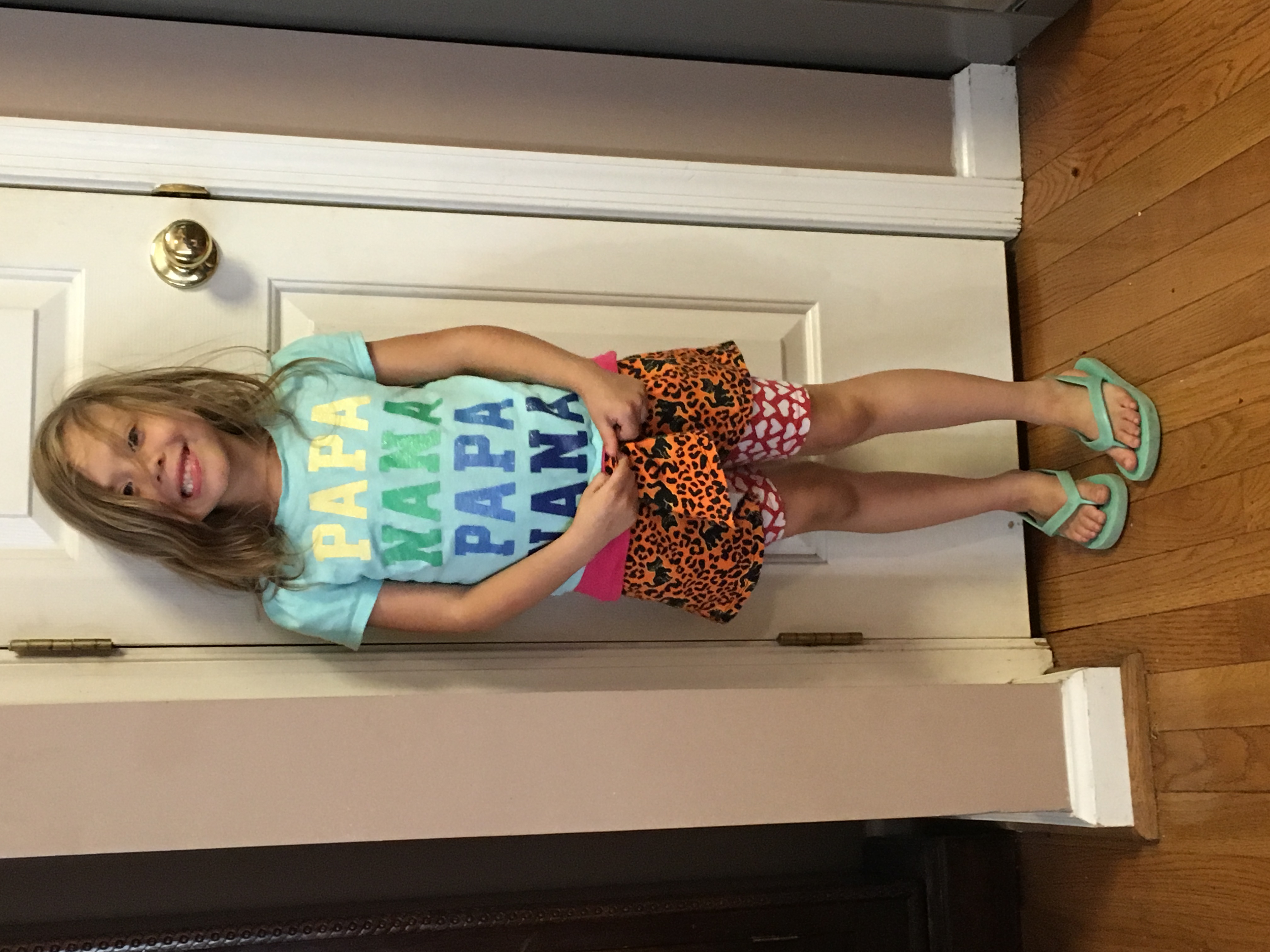 United States
September 25, 2016 6:08pm CST
I love my daughters outfit for today. She work red shorts, with white hearts, then a orange skirt with black cats which she said she got her shorts out because her skirt didn't have any shorts built into them. Her 4 year old brother picked out a pink tang top no then she picked out a blue shirt to gover her tang top. Lol got to love it when you see what a 5 year old puts to get her and why. She put the tang top on because I wear tang tops under everything so she was copying me. I guess I should be flattered and she remembered what I said about wearing leggings or shorts under skirts if we can keep the, down better wear something under the, because good girls don't let peopel see there panties.
8 responses


• United States
27 Sep 16
Thanks, lol, I was surprised she let her 4 year old brother help her.

• Atlanta, Georgia
27 Sep 16
@ShyBear88
It surprises me too, sisters don't usually want help from little brothers.

• United States
28 Sep 16
@RubyHawk
oh yes, normally she is all about doing it herself but she is the big sister ans will take the chance and have them help her. She likes to pretend to be mommy.


• Canada
25 Sep 16
She is adorable and I lover her choice of outfits. Too cute.

• Canada
26 Sep 16
@ShyBear88
it is but that is what makes it so special

• United States
27 Sep 16
@Happy2BeMe
most days I pick for her because of school. But the weekend she can pick what she wants as well as holidays off rom school. I have to make sure she dresses right for PE day.


• United States
26 Sep 16


• United States
27 Sep 16
Thank you! It was a good choice, tray was pj pants and long sleeve top at least the colors went together.

• North Myrtle Beach, South Carolina
26 Sep 16
I love her colorful taste!

• United States
26 Sep 16
I know right. If think she has better taste then me some days.


• United States
26 Sep 16
I asked her nicely so I could take a picture of her.

• United States
25 Sep 16
This made me laugh. I am glad you love the outfit. Good night.

• United States
25 Sep 16
Oh she is just adorable. I can't wait for when my son starts dressing himself or at least picking out his own clothes. I wanna see if he has good sense of style lol

• United States
26 Sep 16
My 20 month he picks out what to wear some times. He can't reach all of his clothes. But my girl she tell you what she likes and doesn't like.