Myths or Truth ?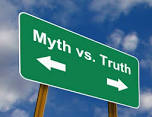 Delhi, India
September 26, 2016 7:29am CST
We tend to rely on Myths when we don't wish to afford Reality. All of us have a tendency to live in comfort zone which is easily provided by the "Myths" as there is no logical or rational basis of Myths. Our Life circles around "Myths" if we don't use Knowledge to get of the circuitous path of "Myths" ! What is your take on "Myths and Truth" ?
2 responses

• United States
26 Sep 16
Myths serve many purposes. Like bedtime stories to teach children things in a way they will remember or understand. Scare them into obedience. Hansel and Gretel the witch is a cannibal. She keeps the kids fattens them up and eats them! I don't remember the whole story but that's the part I will never forget.

• Delhi, India
26 Sep 16
What about you? Do you think Myths are important for Adults. Have you ever believed in any Myth yet?

• United States
26 Sep 16
@RADICAL11
I suppose I do believe in myths I keep hoping they find big foot especially after all the commercials they have about him.

•
26 Sep 16
We easily accept myths but we hardly accept the truth because it may hurt us. That's is why we rely on myths.

• Delhi, India
26 Sep 16
So true, I totally agree to what you mentioned. It is strange that we know relying on Myths is not fruitful but we still rely on it.

•
27 Sep 16
@RADICAL11
myths are easy to undersand while truths are complicated.