art therapy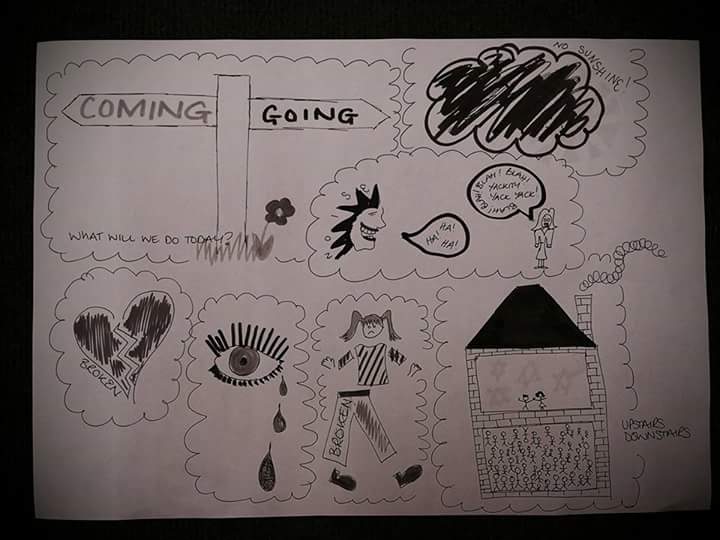 September 29, 2016 5:06pm CST
The last lesson of my working week was one where students are going to learn about emotions and creativity as a tool to express them. As a precursor to learning about it, they partook of their own individual art therapy session. It was bliss. Give someone a pen and a piece of paper, and even the most hardened teenager will stick their tongue out in concentration and draw. Silence. They didn't need support so I drew my own picture. Hopefully it's attached to this post. My picture has managed to organise and compartmentalise my personal thoughts about work and put each of them into their own little box. There are tears, broken bodies and crowded rooms. Noise pollutes the atmosphere. No, there is no atmosphere ... not a positive one, anyway. We have become fragmented, despite the fact that moving us all together was supposed to create a wonderful feeling of comradeship and love. There is no sharing of ideas. Instead there is the relentless feeling of suffocation and claustrophobia. Women cackle like witches, the room gets full to bursting, becoming LOUD in the process, and the young male staff flaunt their wares as the girls flutter eyes in their direction. This week has been horrid. There have been tears and tantrums, illness and secret rooms in which to hide to complete admin and paperwork. Morale is at an all-time low and my Line Manager has no idea how to actually manage a bunch of brilliant staff. It's a blessed relief that the week is over for me. I intend to try and forget anything work-related over the next three days, and concentrate purely on me. Well, and Baby Toddler Niece. I need some more art therapy now!
4 responses

• Ireland
29 Sep 16
@poppylicious
You sound like you need a nice cup of tea and a foot massage! I love the picture of teens sticking out their tongues in concentration.

•
30 Sep 16
I did need a nice cup of tea, but eugh no, not a foot massage. I really don't like my feet being touched!

• Ireland
30 Sep 16
@Poppylicious
I dislike feet myself - they are for walking on, not touching. Especially other people's.

• United States
29 Sep 16
So sad to hear that the week was a hard one. And, a manager who does know how to implement those marvelous skills possessed by staff is such a waste. Yes, I am sure you are delight your week is over.

•
30 Sep 16
I am, but it's just a shame a new working week begins on Monday!

• United States
30 Sep 16
@Poppylicious
Everytime I pass by a school, I breathe a sigh of relief that I am retired. So much work; so very tired all the time when teaching.

• United States
29 Sep 16
How about that.I wish that I was there to do this with you.I could use this.

•
30 Sep 16
I didn't realise how therapeutic it is. I might become an artist. Lolz.

• Moses Lake, Washington
29 Sep 16
You're overdue for some "me" time.

•
30 Sep 16
I am, but my psychic mystical ball informs me that won't be possible for a couple of weeks. *sigh*