Visiting D.C. Booth Historic National Fish Hatchery, Spearfish, SD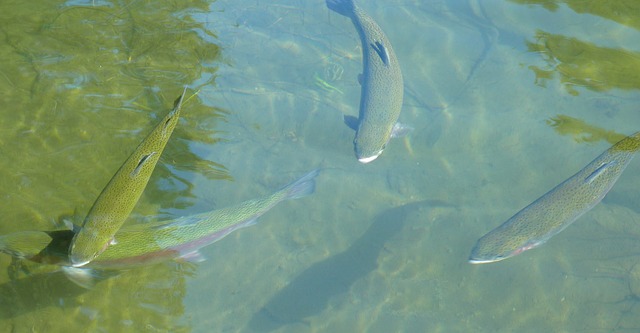 Los Angeles, California
October 9, 2016 9:18am CST
So why would a fish hatchery be an attraction people actually visit? The D.C. Booth Historic National Fish Hatchery is historically interesting and the park setting is quite nice. Spearfish is near the northern edge of the Black Hills of South Dakota. The hatchery is nestled up against hills next to the city park. After parking, you traverse a bridge over Spearfish Creek and looking down there are trout and those trying to catch them. The hatchery was created in 1896 because the U.S. Fish and Wildlife Service decided to introduce trout into the Black Hills. Today, the hatchery is still in use on a smaller scale and mainly serving as historical and archival center. The place is sedate and quiet with oaks and pines. Several ponds team with leaping trout of all varieties. The largest pond is also home to ducks. There is an underwater viewing window to see permanent resident trout that have grown to substantial size. The breeding pond is filled with tiny baby trout that swarm tossed food. Runways are stocked with different age and types of trout. There are some interesting things to see on the grounds. Named after the first hatchery superintendent D.C. Booth, the neo-colonial revival house was built in 1905 and served as superintendent family quarters until 1983. The workers residence was constructed in 1939 as a WPA project. The fisheries railcar exhibit is a converted 1910 car illustrating how fish were transported and delivered across the country. The Von Bayer Museum of Fisheries History was the hatchery building from 1899 that was once filled with wooden troughs of incubating trout eggs. The administrative office looks untouched from the old days. Among the artifacts in the big room are incubators, hatching jars, shipping crates and transport cans. The outdoor sights are more interesting than the indoor and there are a couple of hiking trails. The hatchery is very family friendly and free of charge.
6 responses

• Denver, Colorado
9 Oct 16
Ducks! I like to feed them.

• United States
9 Oct 16
We went through Spearfish on our honeymoon 9 years ago.


• Preston, England
9 Oct 16
sounds a place well worth a visit

• United States
9 Oct 16
That sounds like an interesting place to visit.

• Roseburg, Oregon
9 Oct 16
Free of charge would get me to want to go there.