Synchronicity: The Book came Home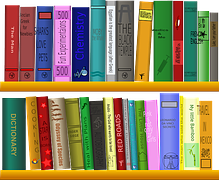 United States
October 10, 2016 8:35pm CST
A synchronicity is a fancy term for a coincidence that cannot be explained. One of those happened to me a few years. One Christmas, I gave my best friend a book. I wrote a greeting to her on the inside of the book. One time, she said the book disappeared. She was looking for it and could not find it anywhere. I was poking around a thrift store one day. I looked at books and saw that they had a copy of the same book I gave her. I opened up the book and found the inscription, bought the book and gave it back to her. She insists that she never gave it away and did not know how it got there.
7 responses

• India
11 Oct 16
@akalinus
Definitely that is a coincidence-and a very pleasant one.I think while your friend was sorting the books to keep and those to donate to the thrift shop it was inadvertently placed on the wrong pile.Happens all the time.This has happened to me and I have given away some which I had wanted to keep..Anyway,what a nice surprise.

• India
11 Oct 16
@akalinus
Thanks for liking the avtar.No. sadly I did not get them back.



• Miami, Florida
11 Oct 16
What a small world that you was able to find that book. I wondet did she wanted the money for the book?

• Miami, Florida
11 Oct 16
@akalinus
. Whether or not she sell the book for the money and needed the money?

• United States
11 Oct 16
@CoolPeace
When you give something to a thrift shop, you do not get any money. It is a donation. In the USA, most thrift shops are non-profit, which means they use the money for charity purposes.


• Greece
12 Oct 16
What a happy story - so in effect you had the pleasure of giving her the book twice.

• United States
11 Oct 16
That's cool. Maybe she forgot that she gave it away.

• United States
11 Oct 16
I think it was an accident if she did. It is very strange that I would find that particular one out of all the books in all the shops. You see a lot of the same books in these shops. I thought it was just another copy until I saw my note in there.


• Philippines
11 Oct 16
Maybe someone did it. Good thing you found it.