Taho or Soy Pudding in the morning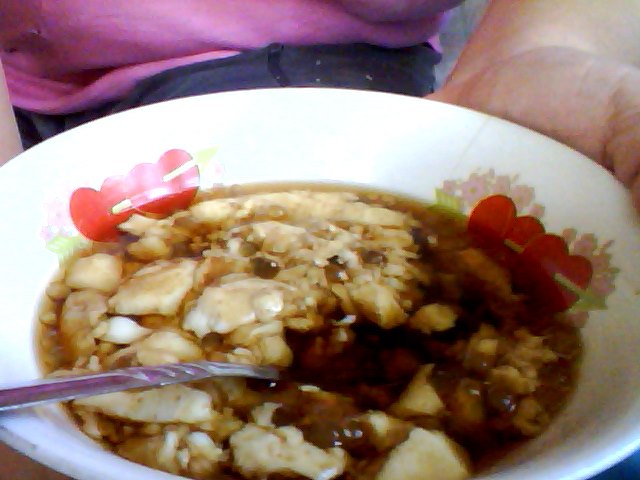 Philippines
October 16, 2016 10:19pm CST
Here in my country we call it taho or [t?'ho?]) in chinese ??; Pe?h-oe-ji: tau-hoe .It is a Philippine snack food made of fresh soft/silken tofu ., arnibal (sweetener and flavoring)., and sago pearl (similar to tapioca pearls). I usually eat taho in the morning you can buy them here anywhere in our country and it taste so good.The price starts to php 5.00 for a small plastic cup and ranges to php 10-20 .00 for a medium sized bowl if you would like them to share with family and friends.It's very popular here and a lot of pinoys is enjoying it specially if you wake up early in the morning after you have a jog, or a brisk walk and then try eating them you will get energized too.
6 responses

•
17 Oct 16
I like cold taho. When I buy one, I let it stay inside the freezer for few hours, then take it out and eat it.

• Philippines
17 Oct 16
I love taho . But i seldom get to eat that because no one comes into the subdivision , or maybe because our house is in the inner part . Though , last Sunday i get to eat one when i saw a "taho" vendor vending it to parishioners who like me just came out of the church . So delicious .

• Philippines
17 Oct 16
I like "taho" we also have a regular guy who brings to us here cause he also sells us our "tokwa" or tofu.

• Philippines
17 Oct 16
@louievill
wow that's great! I can see that you love tofu is it for your own consumption or for business as well?

• Philippines
17 Oct 16
@tipay26
we love to eat tofu at home, the tofu and taho factory here is one and the same cause they all are made from soya beans so the taho vendor will also bring you tofu if you order in advance, fresher than the one in the market

• Philippines
17 Oct 16
@louievill
oh wow and are you familiar with fried tofu too?it tastes good and healthy for the body


• Philippines
17 Oct 16
This is a favorite of mine. The ones sold in malls are good as well but nothing beats eating hot 'taho' straight out of the aluminum cans of the street vendors.

• Philippines
17 Oct 16
@allen0187
true! specially in the morning that's the best.


• Philippines
18 Oct 16
@tipay26
I don't mind having 'taho' even late at night.

• Roseburg, Oregon
17 Oct 16
That looks very good. It would make a nice snack.