Shout Out to your Ex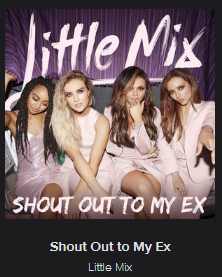 Philippines
October 19, 2016 4:05am CST
I'm listening to this new song by Little Mix called Shoutout to My ex and the song is very catchy and danceable. Anyway, it made me think if there is something you would like to say to your ex what would you say? For me, I have no bitter feelings towards any of my exes since I know all those relationships happened for a reason so I would probably just say Hello to them. Haha.

How about you what would you say? Image courtesy of spotify.com
3 responses

• Singapore, Singapore
19 Oct 16
I would tell them "thank you for all the good times shared. hope you are doing fine."

• Philippines
20 Oct 16
It is always good to wish them well so I definitely like your statement.



• Philippines
19 Oct 16
Haha. I agree with you about thanking them because it made us more understanding of what to do and what not to do.


• Philippines
20 Oct 16
I like that most girls who replied here have a positive attitude about their exes. No resentment whatsoever. I like it!