How is this one?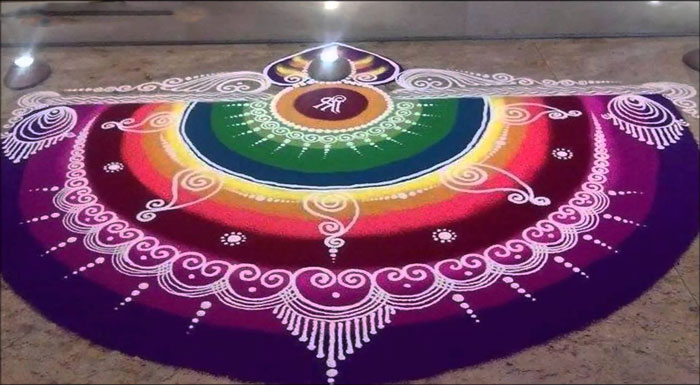 India
7 responses

• Philippines
21 Oct 16
Oh i like the color combinations so much . It is beautiful , my friend .


• Singapore, Singapore
21 Oct 16
i like it a lot. It is a good idea to have rainbow concept incorporated into the design.. the curves are simple need yet trendy.

reminds me of peacock somehow..


• India
21 Oct 16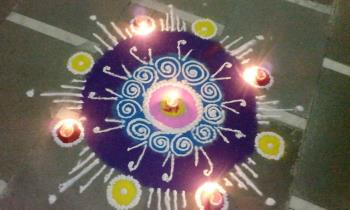 this is what I have created previous year....have a look....rainbow concept....nice suggestion thanks

• Mumbai, India
21 Oct 16

• Canada
21 Oct 16
It is beautiful. I love the colors and designs. It is very creative.

• Philippines
21 Oct 16
Its really fantastic! I have never seen such beautiful as this.



• Philippines
21 Oct 16
i looked up what 'rangoli' meant and per wikipedia they are "patterns created on the floor in living rooms or courtyards using materials such as colored rice, dry flour, colored sand or flower petals, usually made during Indian festivals." so i'm curious what materials did you use for that rangoli in the picture? did many hours did it take?

• India
21 Oct 16
well...rangoli colors are combined of rice flour, color, sand....as you mention....exactly how rangoli colors are made...I don't know as I buy them not make them.....well....creating a rangoli design will take so much time....it all depend upon the design of rangoli....and how big you are going to make it....the maximum time that I spent creating a rangoli design on floor is 2.5 hours....

• Philippines
21 Oct 16
@hema7213
so you buy the colored materials then create your own design?

• India
22 Oct 16
@hereandthere
yes...you are right.....I am only good in creating rangoli designs....



• India
25 Oct 16
hey dear...I didn't make it....I am just trying to take opinion about it ...

• United States
22 Oct 16
Love that one! It is so pretty. Amazing talent you have too! Good luck on your festival.