Mirror, Mirror On The Wall...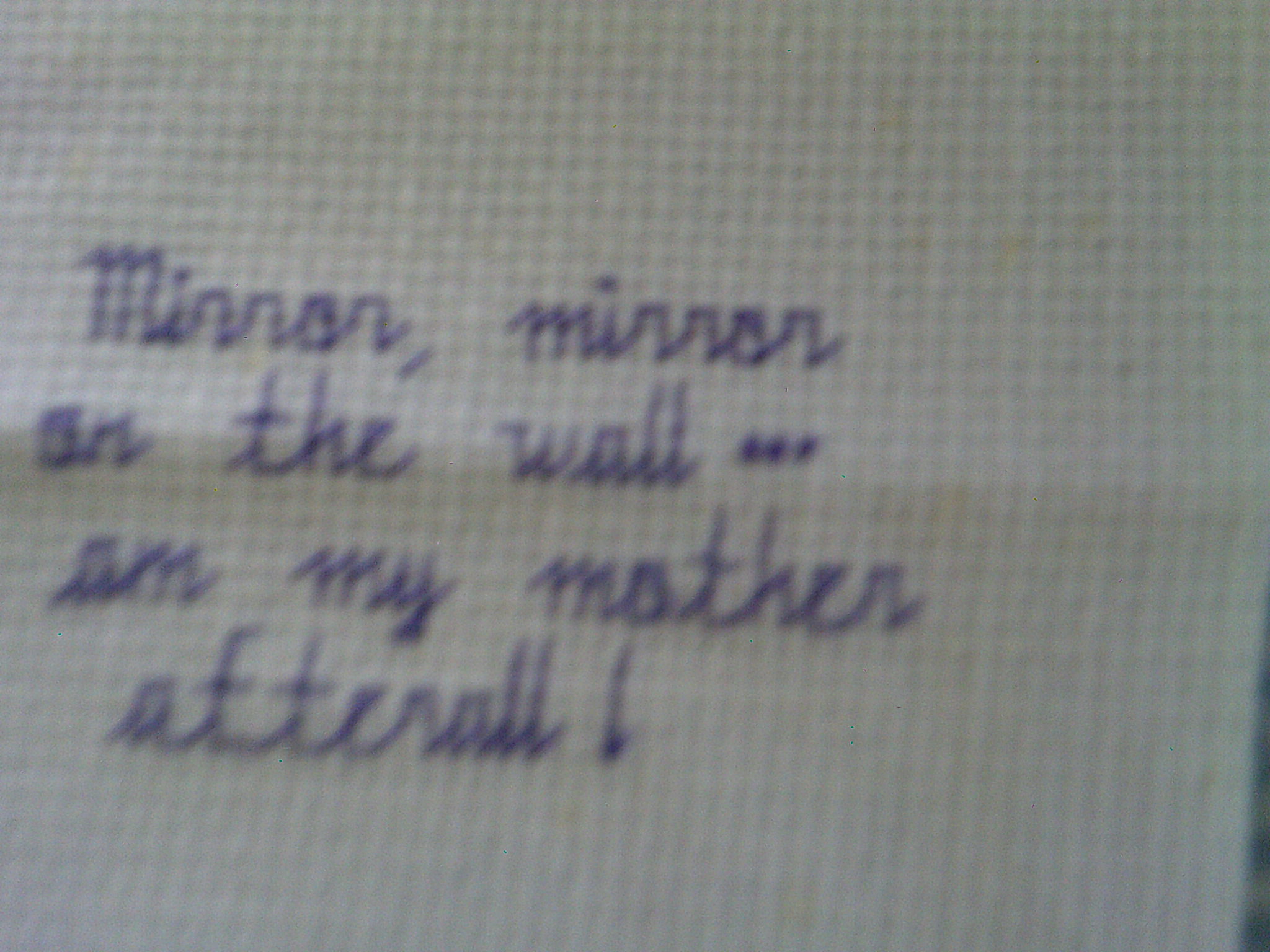 United States
October 27, 2016 2:32pm CST
Am I the only person who has noticed that I have a few of my mother's habits? The older I get the more it seems that I have picked up a few of her ways. I talked to my brother and he says he noticed that he has a few of our fathers little habits. It is so odd to us that it has turned out this way. We sworn up and down that we would never be like our parents and yet, somehow we seemed to have picked up a few of their little ways. I find myself using little sayings that I heard growing up and they are not the sayings that I liked. They were the ones I would wish they would stop using. "You're face is going to freeze like that", is one is particular that I really didn't care for. Are you becoming your mother or father?
8 responses

• United States
27 Oct 16
If I look in the mirror, my mother is staring back at me. My brother does a lot of things Dad did and also repeats phrases used by Dad. My sister and I do have all Mom's mannerisms and a bit fiery temperament too.

• United States
28 Oct 16
@HazySue
My sister looks in the mirror and sees our dad. I have my mom's personality and Sis is more like Dad. Genetics are amazing. I base my health on Mom's since that woman had no medical issues until age 89 when dementia set in. Now, if I can protect myself from dementia, I think I will be in pretty good shape.




• El Paso, Texas
27 Oct 16
You mean you just noticed that? Heck, I have the same traits my maternal grandfather had, he loved art and photography, and to my chagrin I am also like mom in that I like to hang on to useless objects ..... HOWEVER, I am learning a new trait, from daddy thankfully, his motto was "if you haven't seen it in over a year you probably won't use it so give it to someone who will" I've decided to make that my motto.

• El Paso, Texas
28 Oct 16
I'm trying to follow dad's advice
@HazySue
so far I've gone through several areas that contained items I'd forgotten about over the years and some I actually am using but most of it was not stuff I'd know what to do with so it's being donated if it's useful ...... I haven't a clue what to do with all those spare hangars that came with the clothes I bought years ago, they're not really all that sturdy.

• United States
30 Oct 16
@rebelann
I am getting ready to clean out my storage building. I know there has to be boxes in the back that haven't seen the light of day in years. I am thinking that if I haven't missed them in that long I must not need what is in them.


• Green Bay, Wisconsin
28 Oct 16
My mother used that phrase a few times as well. It's hard not to when you grow up with them at least a quarter of your life. My problem is that I look like my mother. Not something I'm proud of.

• Green Bay, Wisconsin
29 Oct 16
@HazySue
I think I have my dad's personality too. I'm very stubborn.


• United States
28 Oct 16

• United States
31 Oct 16
@HazySue
reckon that'd depend'n who ya ask, lol!

• United States
4 Nov 16
@crazyhorseladycx
I reckon you are right.


• Boise, Idaho
28 Oct 16
I am rather surprised how much like my mom I have become. Look sort of like her now and didn't before. Favored my dad more. I have the anxiety she had. Stay up all night sometimes if I know I have something going the next day I am not used to doing.

• Boise, Idaho
28 Oct 16
@HazySue
......I have a few of my own also. LOL

• Cuyahoga Falls, Ohio
27 Oct 16
Not sure. My father have told me I'm like my mother, if that counts.


• Canada
27 Oct 16
I am a lot like my mom but I am fine with that. It actually makes me feel good when people compare me to her.