Listening for the intruder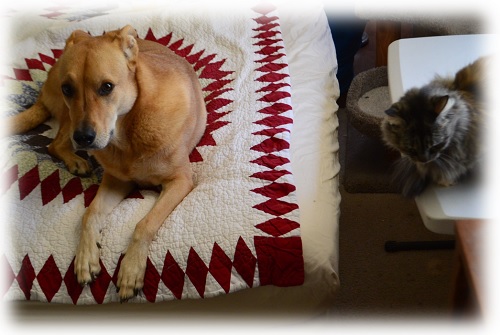 El Paso, Texas
October 30, 2016 8:44pm CST
Ally seems to know that cats can be very dangerous. Mom's cats seem to know that Ally fears them. Now Ally spends a lot of time listening for the footfalls of one of those two intruders .... mostly it's Max that gets into our room. Isn't it funny that we always hear about dogs chasing cats yet when you come right down to it they don't want to face a cat? Well, would you want to face an angry cat?
5 responses

• United States
31 Oct 16
the pup here don't chase cats, sadly the same can't be said fer the neighbors pup - he don't fear e'en'n angry cat. a diff'rence 'f bein' raised with 'em i reckon? then 'gain, i'd a persian 'n a pup who found their way here 'bout the same age. thicker'n thieves, those 2. ate together, slept together, played together. 'til one day i arrived home with cat hair all o'er the back yard'n blood all o'er that pups face :(

• El Paso, Texas
31 Oct 16
That's so odd, my pups have never turned on their kitties. But I have seen feral cats corner a husky in a neighbors back yard, the pup was about 3 yrs old and was curled up in a corner of the yard with his nose buried in his paws. At the time I thought it was funny but if it happened today I'd want to help the dog.

• United States
31 Oct 16
@rebelann
dunno what occurred to make that pup do such a horrid thing :( not pleasant to clean 't all 'p neither...

• El Paso, Texas
31 Oct 16
It doesn't sound like something a pup does when it's bonded with a kitty
@crazyhorseladycx
could it have been there was another pup roamin round that caught the poor kitty unawares?


•
29 Sep 17
That is interesting. I always see dogs chasing cats and my dog in particular loved to and she had a cat at home. I wouldn't want to face an angry dog or an angry cat.

• El Paso, Texas
29 Sep 17
My dogs have always chased strange cats but they never chased the cats that lived with them.

•
1 Oct 17
@rebelann
rebelann, when I had my dog and we went out for our walks. I say that because she always walked me and not the other way around. I got a good workout. She would see cats and want to chase them, but, I would rein her in and tell her she does not have to do that because she has her own cat at home.

• El Paso, Texas
1 Oct 17
I have a fenced yard so if there is a strange cat in my yard Ally will chase it
@Hannihar


• Miami, Florida
31 Oct 16
Their paws get big and they scratch.

• El Paso, Texas
31 Oct 16
Oh, they do more than scratch, they bite and boy are their teeth sharp.

• Miami, Florida
31 Oct 16

• El Paso, Texas
31 Oct 16
Oh yes, most creatures do depending on the situation
@CoolPeace
if ya try to hurt a rabbit it'll bite ya too.



• Banks, Oregon
31 Oct 16
It all depends on the cat and, dog, but yes usually if a cat initiates contact or holds it's ground a dog won't mess with them.

• El Paso, Texas
31 Oct 16
It's actually worse than that, they advance on dogs. Both the newbees have been known to attack dogs so I worry they might try that with Ally, if so they'll find I'm not the kind of human they wanna mess with.