Traffic, Traffic and traffic.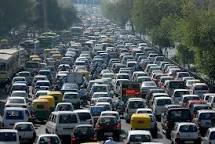 November 8, 2016 7:57am CST
Today i stucked in traffic nearly 2 hours in high pollution. A discussion is going on my mind , how we decrease this traffic. Flying cars is already intentioned then when they release that cars in the market. I think if that cars release to market. Half of the traffic has decrease. What's your opinion.?
4 responses


•
8 Nov 16
I know banglore traffic. I visit that place.

• Philippines
9 Nov 16
I also hate being stuck in traffic. I felt so helpless that I want to cry. =(

• Philippines
8 Nov 16
Flying cars is just not practical in our times. First, people would need to get flying licenses and take short courses on how to drive via air (it's not that simple). Second, flying via air is more dangerous than flying in land, that is why a guidance system air road must be made first. Thirdly, and of course, Fourthly (get it?

) Anyway, to decrease traffic is one of the most challenging things to do for politicians and of course for people but can be reduced by simply following traffic protocols (civilians and drivers alike), and of course, by widening the road. But, cost, is important and the government must make sure that it will be okay to widen the road without interrupting establishments or buildings near roads. Nevertheless, flying cars would be awesome!
P.S. To combat traffic, it is best to get some music going on in your car or audio books you can listen to. Not only that, books can also help speed up time while waiting for traffic. As experts say, your attitude while waiting is important in increasing our patience.

• Canada
8 Nov 16
I can't even imagine having to deal with traffic like that! Wow!